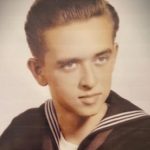 A military graveside service will be held Thursday, September 14 for 80-year-old Glenn Robert Bievenue of Red Bud, Illinois who passed away September 5, 2023 at Oak Hill Waterloo, Illinois.
He was born to the late Russell and Albertha (nee Hoffmann) Bievenue on January 14, 1943 in Modoc, Illinois.
Glenn married Deloris Godare on December 25, 1961 at St. Peter's United Church of Christ in Red Bud, Illinois; she survives.
Survivors:
Wife: Deloris Bievenue Red Bud, IL; 1 Son: Kevin (Adrienne) Bievenue Freeburg, IL; 5 Siblings: LeRoy (Jessie) Bievenue Red Bud, IL, George Bievenue Baldwin, IL, Ray (Darlene) Bievenue Red Bud, IL, Elsie (Tom) Blomenkamp Kingman, AZ; Linda Glasco St. Libory, IL; Sister-in-law: Carol Bievenue Red Bud, IL;3 Grandchildren: Regan Bievenue, Russell Bievenue and Reece Bievenue; 1 Great Grandson: Carter Oberg; Many Nieces, Nephews, Cousins and Friends.
Preceded in death by: Parents, 1 Brother – Berdell Bievenue and 1 Sister-in-law – Ava Bievenue
He was a proud Navy Vietnam Veteran.
He had worked as a barber in California.
Glenn was a member of St. Peter's United Church of Christ of Red Bud, Illinois and a life member of V.F.W Post #6632 in Red Bud.
He enjoyed fishing, going camping and golfing.
He also had been a volunteer coach when his kids were young.
Most of all, he enjoyed spending time with his family, especially his grandchildren.
It was Glenn's wishes to be cremated.
Military Graveside Service: 2:30 pm, Thursday, September 14, 2023 Jefferson Barracks National Cemetery, St. Louis, Missouri
Celebration of Life Gathering: 3:00 pm – 5:00 pm, Saturday, September 16, 2023
V.F.W. Post #6632 830 S Main Street, Red Bud, Illinois
In Lieu of Flowers, donation can be made to Down Syndrome Association of Greater St. Louis,
V.F.W. Post # 6632 or Oak Hill Nursing Home – Memorial Endowment Fund. Donations can be made at the Celebration of Life Gathering or mailed to the funeral home.