…and you might be the newest member of the 2023 CHS Football 1st and Ten Club!
By Jim Beers
CHESTER – The 2023 high school football season is in full swing and at Chester High School that means the YellowJacket 1st and TEN Club is back!  This year marks the 28th year for the promotion and 21 loyal sponsors have made it possible to once again bring excitement to W.O. Smith Field for home varsity football games.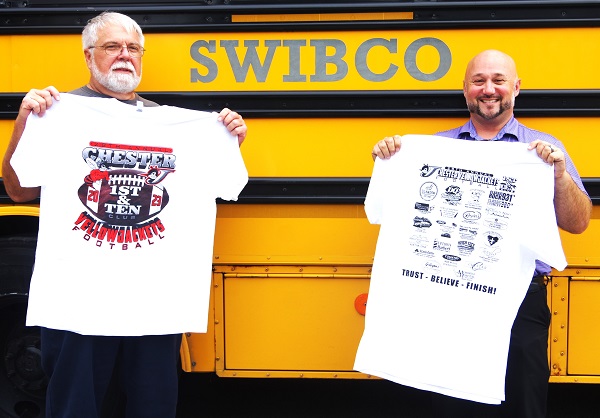 Dale Wahl (left) and Eric Robinson (right) of Southwestern Illinois Bus Company (SWIBCO) proudly show off the 2023 1st and TEN T-shirts that are thrown out at each home Chester High School football game. The shirts are thrown into the crowd each time the Yellowjackets get a first and ten. This is the 28th year for the promotion and SWIBCO has been a loyal sponsor since the beginning. This year there are 21 loyal sponsors and Jackets fans are always reminded to "KEEP YOUR EYESTO THE SKIES" every time the Jackets get a 1st and TEN! JIm Beers Photo
Each time the YellowJackets get a first and ten, the CHS Cheerleaders, Dance Team members and some of the 21 sponsors of the promotion toss the very popular 1st and ten T-shirts into the crowd.
The event started 28 years ago when Brian "Gritty" Snider and Project Coordinator, Dr. Jim Beers brought the idea to CHS of starting the program at W.O. Smith Field. Head Coach at the time was Dennis Roth and he was most excited about bringing this program to CHS.
The idea of starting the 1st and Ten Club came from Southern Illinois University where Saluki Spirit Squad members conducted the same program. The initial year was sponsored by Silkworm, Inc. and KSGM 980 AM Radio, the Voice of the Jackets.
Over the years more and more local businesses have become involved and now 21 sponsors keep the program alive. Since its inception more than 8,500 shirts have been thrown to YellowJacket faithful fans!
The 2023 sponsors include:
Silkworm, Inc.
Rozier's Country Market
Andy's Auto Body