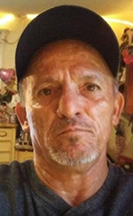 53-year-old Francis "Big Sport" Edgar Gibson of East Saint Louis, Ill. passed away Wednesday, August 30, 2023 at SSM St. Louis University Hospital in Missouri, the son of Francis E. Gibson, who preceded him in death and Cathy "Cathie" Gibson, who survives in East St. Louis, Ill.
He was born September 5, 1969 in St. Louis, Mo.
He married to Angelina (Sandella) Gibson September 24, 1994. She preceded him in death.
He is also survived by a son: Steven Gibson of Wentzville, Mo.; a daughter: Savanah Gibson of Collinsville, Ill.; his fiancé: Judy Rolen; a brother: Darrell (Traci) Gibson of Saint Louis, Mo.; and a grandson: Declan Gibson.
He was also preceded in death by a son: Francis "Little Sport" Gibson Jr.; a daughter: Brianna Gibson; and a brother: Steven Gibson.
Francis enjoyed fishing and gambling.
Visitation will be 8-11 a.m. Saturday, September 9, 2023 at the Basler Funeral Home in Sainte Genevieve, Mo.
Memorials may be made to family use.
Online condolences can be left at www.baslerfuneralhome.com.
To send flowers to the family or plant a tree in memory of Francis, please visit our floral store.
If you would like to make a donation in memory of Francis Edgar Gibson, please visit the Tribute Fund.