ST. LOUIS – What can you do to get your kids to eat more nutritious foods, get better grades in school and have a larger vocabulary? The answer may be easier than you think. Start by enjoying family meals on a regular basis. While family dinners may seem like a burdensome chore at the end of a tiring day, the benefits of time together cannot be measured by calories alone. Family meals offer a unique opportunity to teach children valuable lessons and to influence their health positively.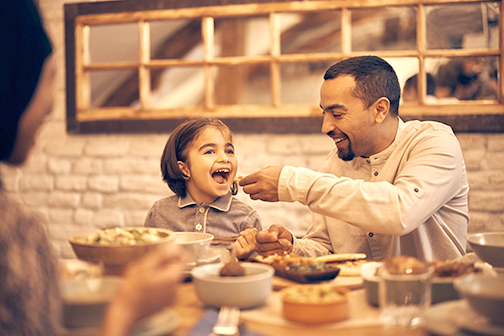 "Pulling together a nutritious meal does not have to be time-consuming or hard," said Jessica Kassel, nutrition educator with St. Louis District Dairy Council. "Parents can look to dairy foods, such as milk, cheese and yogurt to pack a nutritional punch and to add flavor to a meal. These are easy foods to add because they complement many other foods, such as vegetables and fruit."
In today's world, work schedules, extracurricular activities and other interests may put family meals on the back burner. Fast food and drive-through meals have become standard dinners for many busy families. However, making shared meals a priority is important in this fast-paced society. Many families are starved for time together, and a family dinner or breakfast can allow them to reconnect, leave behind individual pursuits and really be present. Family meals provide a time to relax, recharge, laugh, tell stories and catch up on events. Plus, family mealtimes are a great opportunity to gain crucial knowledge and nutrition skills.
Better nutrition is a key benefit of enjoying meals as a family. Research shows family meals influence and improve food choices. "Dairy foods, for example, contain calcium, protein and an array of essential nutrients, and are easily incorporated into breakfast, lunch or dinner, ensuring a nutrition-packed meal to serve to your family," Kassel said. "Grate and sprinkle a new flavor of cheese over vegetables or stir yogurt into a fruit dip. These simple options expose children to new foods and help ensure they are getting the recommended three servings of dairy every day."
Family meals foster children's healthy growth and development, both physically and emotionally. Studies show that with regular family meals, kids are less likely to engage in unhealthy and risky behaviors, such as smoking. Parents and health professionals also note improved communication as an additional benefit. Shared family meals may also improve vocabulary and social skills, self-esteem and grade-point averages.
Making family meals a priority does not require a professional chef in the household. Focusing more on being together rather than making an elaborate meal is a good start. Additional steps include increasing the number of family meals by one meal each week. Weekly menu plans and grocery lists allow everyone to be involved in the plan. Encouraging children to make suggestions, help prepare food or set the table can also help.
"Pouring milk into a measuring cup, discussing why cheese melts on a casserole, tasting different yogurt textures, or explaining that milk is a local food can help build skills and knowledge. Plus, they're great ways to get kids excited about dairy," Kassel said. "Last, but not least, turn off all devices, including televisions, tablets and phones, and enjoy time as a family. It's worth a try, as sharing more meals together could mean large rewards for the family."
For additional information on dairy's place in family meals, visit www.stldairycouncil.org , call St. Louis District Dairy Council at (314)-835-9668, or e-mail jkassel@stldairycouncil.org. For additional easy and tasty recipes, check us out on Facebook at STLDairyCouncil.
About the St. Louis District Dairy Council
The St. Louis District Dairy Council (SLDDC) is a nonprofit nutrition education organization funded by local dairy farmers. Since 1932, SLDDC has served 131 counties in central/southern Illinois and eastern Missouri as the go-to educational resource and advocate for the role of dairy foods as part of a healthful diet. As The Nutrition Education People, we are proud to spread knowledge to local communities, bridging the gap between local dairy farmers and consumers. The staff is comprised of professionals with experience in nutrition, food service management, education and communications, and we take pride in delivering engaging programs throughout the communities we serve.