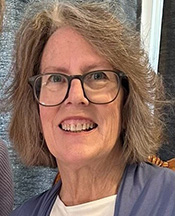 Roberta Lynn Brown was raised on angel's wings on Thursday, August 24th from her home in Hawk Point, Missouri, at the age of 64.
She had been on hospice care due to complications of pancreatic cancer. She passed peacefully with family by her side.
The former Roberta Lynn Loennecke was born September 2, 1958, in Cape Girardeau to Walter E. and Sarah Hoffman Loennecke. She and Daniel R. Brown were married November 10, 1979, at First Presbyterian Church in Jackson.
Roberta was a graduate of Jackson High School and Southeast Missouri State University. She worked for Riverside Regional Library for 25 years, most of that time as office manager.
After retiring from Riverside, she went back to work at Jacobi Geotechnical Engineering in O'Fallon, MO.
On weekends, you could usually find her on her kayak, riding her lawnmower, or on an outing with friends and family.
Roberta was a long-time clarinetist with the Jackson Municipal Band and also the Ste. Genevieve German Band.
Roberta loved the Lord and worshiped with Dan at Growing Faith Ministries in Troy, MO, and at Hawk Point Community Church.
Survivors include her husband of 43 years; one daughter, Chelsea (Philip) Wire; and a granddaughter, Liesel, all of Troy. Roberta was preceded in death by her parents.
A memorial visitation will be Saturday, September 9, 2023, from 9-11 AM at McCombs Funeral Home and cremation Center in Jackson.
A Celebration of Life Service will be Saturday, September 9, 2023, at 11 AM at the funeral home with Mark and Janeen Wheeler officiating.
The family asks that, in lieu of flowers, memorial gifts be made to Pancan.org, the American Cancer Society, or to your chosen place of worship.
Online condolences may be sent to the family by visiting www.mccombsfuneralhome.com.