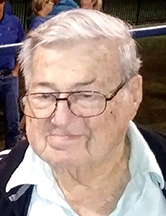 Emil Gerald Schaaf, 92, of Perryville, died Wednesday, May 17, 2023 at his residence.
He was born July 23, 1930 in Kimmswick, Mo. to Herman and Lelia Frances (Butler) Schaaf.
Emil and Leontine "Lee" Schaaf were married March 31, 1951 in Ste. Genevieve. She preceded him in death on October 17, 2019.
He was the vice president of manufacturing for Prince Gardner, plant manager for Dooney & Bourke in Puerto Rico from which he retired.
He was a member of St. Vincent De Paul Catholic Church.
Survivors include seven sons: Mark Schaaf of Perryville, John (Cathy) Schaaf of Perryville, Joe Schaaf of Perryville, Christopher (Jean) Schaaf of Friedheim, Brian (friend Theresa Miller) Schaaf of Perryville, Phil (Tammy) Schaaf of Perryville, and Carl (Dawn) Schaaf of Perryville; three daughters: Carol (Ronnie) Voshage of Jackson, Mary (Jerry) Fulton of Perryville, Gemma (Kenny) Geile of Perryville; 20 grandchildren, 17 great-grandchildren and two great-great grandchildren.
He was preceded in death by his parents, his wife. infant son: Gregory Paul Schaaf; two brothers: Herman Schaaf and Lloyd Henry Schaaf; and a sister: Ann Greminger.
Visitation was on Monday, May 22, 2023 at Ford & Young Funeral Home in Perryville.
Funeral Mass was Monday, May 22, 2023 at St. Vincent de Paul Catholic Church in Perryville with Fr. Clay Kilburn officiating.
Burial was at St. Mary Catholic Cemetery in Saint Mary.
Memorial contributions may be given to St. Jude Children's Hospital, St. Vincent Alumni or PHS P.A.C. Association.
Online condolences may be made at www.fordandyoungfuneralhome.com.
Ford & Young Funeral Home is in charge of arrangements.