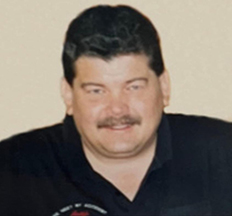 Daniel "Danno" Joseph Geisen, 65, of Chester, Illinois, passed away at 10:38 pm, Thursday, May 25, 2023 at St. Elizabeth's Hospital, O'Fallon, Illinois.
He was born to the late James and Bernadine (nee Brinkman) Geisen on February 22, 1958 in Wood River, Illinois.
Danno married Vickie Taul on May 4, 1979 at St. Mary's Catholic Church in Alton, Illinois; she survives.
Other Survivors:
Two Children: Christopher "Chris" (Brigette) Geisen of Chester, IL and Anthony "Tony" Geisen (Diana Maes) Chester, IL
Eight Siblings: Diana Geisen of Summerville, SC; Tom (Jill) Geisen of Cottage Hills, IL; Sharon Hayes (Bob Mabry) of St. Louis, MO; Roy (Sara) Geisen of Godfrey, IL; Lori (Chris) Pember of Brighton, IL; Patty (Dave) Eichen of Alton, IL; Jeanne Naeger of Tarpon Springs, FL and Christie Geisen (Matt Noble) of Godfrey, IL
One Grandchild: Brennan White (McKayla Allen)
Three Step Grandchildren: Kaylie Hall, Kelsey (Gavin) Young and Kyliee Naeger
Nieces and Nephews: Sarah (Andrew) Roebuck, Michael Beecham, Sean Hayes, Adam (Monica) Geisen, Alex Geisen, Andrew Geisen (Alyssa Harang), Aaron (Brittney) Geisen, Avery Geisen, Anthony Geisen, Josh (Mindy) Pember, Isaiah (Lauren) Eichen, Elias Eichen, David Naeger, Greg Naeger, Corey (Becky) Bazzell, Kristin (Nick) Leavy, Ian (Claudia) Taul, Eli Taul, Kourtney Sanders (Rob Seay), Kyle (Kelly) Sanders, Jessica Hamilton, Amanda (Buddy) Sparks, Lindsey Taul and Kacey (Keegan) Woulfe
Preceded in Death by: Parents
He had owned and operated Andy's Auto Body for 19 years.
Danno was a huge part of the Chester community. He was a member and past board member of the Chester Country Club, the Chester Moose Lodge No. 1764 and the Chester Chamber of Commerce.
He was also a member of Chester Eagles Aerie No.3252, Chester Boat Club and had served as an Alderman for Ward 1.
Danno helped to start and ran the Popeye Cruise for 10 years and organized the Mustang and Corvette Car show. He also started and sponsored the Chester High School Safety Day – T-shirts for Seatbelts, as well as many other community events.
Visitation: Monday – 4-8 pm, Tuesday – 9-11 am, Pechacek Funeral Homes, Chester, Illinois


Funeral Service: 11:00 am, Tuesday, May 30, 2023, Pechacek Funeral Homes, Chester, Illinois, Officiating: Dr. Mike Fogerson
Interment: Evergreen Cemetery, Chester, Illinois
Memorials: Family Choice