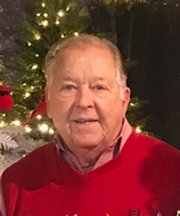 Harlin R. Oberndorfer, 85, of Altenburg, Missouri passed to eternity on Wednesday, May 24, 2023 at St. Luke's Hospital in Chesterfield, Mo.
He was born November 13, 1937 in Frohna, Mo. to Hugo and Alida (Popp) Oberndorfer.
He was baptized and confirmed at Concordia Lutheran Church in Frohna, Mo. He attended Concordia Lutheran Elementary School in Frohna. He graduated from Perryville High School in Perryville, Mo.
Harlin married his high school sweetheart, Rose Marie Elenora (Leimbach) Oberndorfer on December 6, 1959. They were blessed with 64 years of marriage.
Harlin and Rose had three daughters: Tammy (Jim) Palisch of Altenburg, Mo., Lisa (Corey) Hemman of Altenburg, Mo., and Julie (Tim) Kaempfe of Ballwin, Mo. Also surviving are grandchildren: Derek (Heather) Palisch of Jackson, Mo., Olivia (Matthew) Oppelt of St. Louis, Jordan Hemman of Altenburg, Mo. Hilary (Nick) Bauman of Ballwin, Mo., Madeline Kaempfe of The Colony, Tex., Emma Kaempfe of Ballwin, Mo. and Grace Kaempfe of Ballwin, Mo. Great-grandchildren are Emily and Aubrie Palisch, Eleanora and Emmett Oppelt, and Reese and Ozzy Bauman.
Harlin is also survived by three brothers: Gerald (Beth) Oberndorfer of Kansas City, Mo., Gene Oberndorfer of Overland Park, Kan. and Darwin (Debra) Oberndorfer of Washington, Mo.; a sister-in-law: Flori (Schuessler) Oberndorfer of Perryville, Mo. and several nieces and nephews.
He was preceded in death by his parents: Hugo and Alida Oberndorfer; a brother: Charles Oberndorfer, and a sister-in-law: Iva (Weber) Oberndorfer.
Harlin was a farm equipment salesman with the International Harvester Company and then Case IH for more then 65 years, finally taking full retirement in 2021 at the age of 83. He truly loved what he did and built many lasting relationships through the years.
He served for nine years in the Army National Guard.
Harlin and Rose were owners of TRICS Family Restaurant in Altenburg for 27 years which he did along side of his salesman job.
He enjoyed hunting and fishing and playing cards with his friends. Most of all, Harlin loved spending time with his family and frying chicken for them.
Harlin was an active member of the East Perry County Lions Club for 41 years holding various positions. He was a member of Immanuel Lutheran Church in Altenburg and held various positions of office through the years.
Visitation will be on Tuesday, May 30 from 9 a.m. to noon at Immanuel Lutheran Church with service beginning at noon. The service will be officiated by Pastor Frank Lucas.
A luncheon will be held following the service at the Parish Hall.
Memorial contributions may be made to Immanuel Lutheran Church or to the charity of choice.
Ford and Young Funeral Home is handling the arrangements.