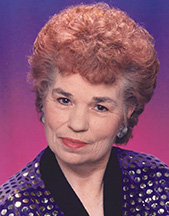 Aileen Dosenbach, 90, of Perryville, Missouri passed away Monday, May 15, 2023 at Jackson Manor in Jackson, MO.
She was born September 15, 1932 in Dyersburg, TN to Willie and Nettie (Landrun) Schults.
She and Emil Dosenbach were married in 1999, he survives in Perryville, MO.
Aileen worked with the elderly in assisted living and was a hardworking business woman. She was a member of Grace Lutheran Church. She enjoyed quilting, flowers, hummingbirds and watching Country Western Shows on T.V.. Aileen's fondest memories were going to garage sales and flea markets with Emil.
Survivors include two step sons, Mark Dosenbach and Kirk Dosenbach both of Longtown, MO; step daughter, Sandy of Florida; good friend, Lori Scott of Perryville, MO.
She was preceded in death by her parents, and two sisters.
A Graveside Service will be at 10:00 am Thursday, May 18, 2023 at Grace Lutheran Cemetery in Uniontown with Rev. Paul Winningham officiating.
Online condolences may be made at www.fordandyoungfuneralhome.com.
Ford & Young Funeral Home is in charge of arrangements.