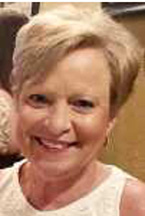 Cindy Lee Suhre, 60, of Jackson passed away Saturday, May 13, 2023, at Barnes-Jewish Hospital in St. Louis.
She was born June 11, 1962, in Houston, daughter of the late Henry Jr. and Martha Hanscom Conary. She and Gary Suhre were married Aug. 7, 1993, in Burfordville.
Cindy was a member of St. Paul Lutheran Church in Jackson. She enjoyed camping and spending time on the Castor River. She was a loving and caring person, and was best known for her laugh and snort.
Cindy worked for Zimmer Radio, Leet Eye Care, McDowell South RV, Touch Point Autism Center and Great Plains Media.
She is survived by her loving husband, Gary Suhre of Jackson; four children, Dakota (Faith) Suhre of Jackson, Brian (Nikki) Huckstep of Cape Girardeau, Jennifer (Mike) Allen of Jackson and Jamie (Gabe) Runyon of Ste. Genevieve, Missouri; six grandchildren, Zetta and Holland Suhre of Jackson, Lane Allen of Jackson and Van, Max and Kai Runyon of Ste. Genevieve; a brother, Maurice (Diana) Conary of O'Fallon, Illinois; and a sister, Linda (Steve) Suhre of St. Louis
Cindy was preceded in death by her parents.
Visitation will be from 4 to 7 p.m. Thursday, May 18, at Crossroads Fellowship Church, 4400 E. Jackson Blvd., in Jackson.
A memorial service will follow at 7 p.m. Thursday, May 18, at the church, with Pastor Matthew Cromer officiating. Fellowship will continue after the service for family and friends.
In lieu of flowers, memorials may take the form of contributions to the family.
Online condolences may be sent to the family online by clicking on Cindy's personal obituary page at www.mccombsfuneralhome.com.