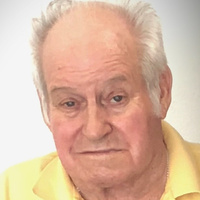 A funeral will be held Tuesday, October 26, 2021 for 81-year-old Floyd Patrick Kenneth Renner of Chester, Illinois, who passed away at 2:29 pm, Friday, October 22, 2021 at Three Springs Lodge Nursing Home, Chester, Illinois.
He was born to Albert and Matilda (nee Brewer) Renner on April 19, 1940 in Perry County, Missouri. They preceded him in death.
He is survived by four children: Delbert (Kimberly) Renner of Sparta, Illinois;      Kenneth (Mary Kay) Renner of Sparta; Lauren (Mick) Davitz of Chester; and Chad Renner (Ashley Beckham) of Sparta; three siblings: Raymond "Buster" (Maydell) Renner of Evansville, Illinois, Lanita "Neets" Nuyt Perryville, and Pat Bohnert of Chester; three sisters-in-law: Mae Renner of Chester, Dorothy Renner of Chester, and Ruby Renner of Coulterville, Illinois; 19 grandchildren: Ethan (Kelsey) Renner, Melyssa (Travis) Grither, Sarah Beth (Nick) Vaeth, Eric Renner, Tommy (Amanda) Renner, Nikki (Nate) Kotschedoff, Josh Renner, Justin Renner, Holly (Joshua) Ray, Seth Hunter, Nathan (Tanya) Davitz, Randi (Tommy) Belton, Ayssa (Corey) Lund, Dustin (Brooke) Renner, Brandan (Shelby) Renner, Allanah Renner (Seth Troue), Faith Renner, Sean Renner (Brittney Deppe)and Wyatt Renner and 28 great grandchildren: Ella, Libby and Liam Renner, Tristan and Ryan Kotschedoff, Alexis, Emma, Austin and Amilia Renner, Arreonia, Hailey and Hunter Ray, Kailynn Hunter, Devan, Lexi and Sadie Davitz, Jaylee and Jase Belton, Maddi Lund, Olivia, Brylee and Ollie Renner, Brently and Jackson Renner, Ella Renner, Cameron and Lilly Severson and Colton Beckham; many nieces, nephews, cousins and friends.
He was also preceded in death by 10 siblings: Ed Renner, Valley Renner, August "Gussie" Renner, Bill Renner, Virginia Strickland, Bezita "Erma" Detjen, Sylvia "Sissy" Renner, Aloysius "Buddy" Renner, Merlin Renner and Joe Renner, and three brothers-in-law: Linus "Linney" Bohnert, Hugo "Curly" Detjen and Clarence Strickland.
Floyd had been a lifetime farmer and had worked at Venetian Terrazzo for over 40 years.
He was a member of Mary Help of Christians Catholic Church in Chester, Illinois.
He had been a hard worker and enjoyed spending time with his kids and grandchildren.
Visitation will be 4-8 p.m. Monday and 7:30-9:45 a.m. Tuesday – 7:30 am – 9:45 at the Pechacek Funeral Homes in Chester, Illinois.
A funeral mass for 81-year-old Floyd Patrick Kenneth Renner of Chester will be held at 10 a.m. Tuesday, October 26, 2021 at the Mary Help of Christians Catholic Church in Chester, Illinois. The Rev. Msgr. Daniel J. Jurek will officiate.
Interment will be in the Mt. Hope Cemetery, Perryville, Missouri.
Memorials may be made to family choice.To plant Memorial Trees in memory of Floyd Patrick Kenneth Renner, please click here to visit our Sympathy Store.