CHESTER — The following Chester Grade School students received a "Hive" Character Award on Friday October 27.
Hive Awards are presented to students who demonstrate one of the characteristics of Respect, Responsibility, Safety, and Empathy.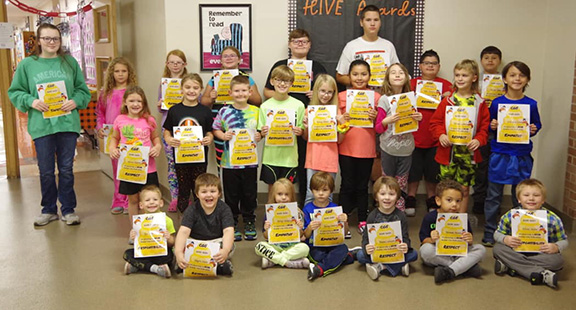 Students receiving awards are: (front row, from left) Jax Casten, Zayne Houk, Joslyn Gregory, Jaxtyn Rensing, Phoenix Leftwich, Jeremia Ferrell, and Killian Keeler, (second row, from left), Karson Nanney, Carter Belton, Hank Utz, Calvin Marshal, Braelyn Rains, Karmin Jara, Saphera Luers, Ethan Wittenborn, and Kristopher Crouch, (third row, from left), Lydia Smith, Harper Stewart, Grace Snow, Sophia Bryant, Xander Greene, Red Fricke, Jude Medrano, and Jordan Sabo. Not present: Justin Johanning and Dayana Maldonado. Photo by Jim Beers
Each student received a certificate and his or her name was announced over the CGS Public Address System.
The "hive" Program is coordinated by Kasey Crook, School Social Worker. Jim Beers Photo