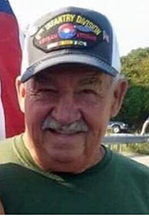 Walter "Skeeter" Lawrence Schwent passed away unexpectedly on May 17th, 2023.
He was 74 years old. His family is deeply saddened by his sudden death.
Skeeter was born June 3rd, 1948, to Mary "Mamie" Theresa Schwent and Oscar "Big O" Schwent, who preceded him in his death. He and his older brother, Welton (Roseann) Schwent, were their parents' only sons.
Skeeter married the love of his life, Pamela Gail McMurty on April 29th, 1971. Together they raised their family, and taught the ways of enjoying the simple things in life to their children; Sabrina Deann Ford and significant other Tracey Ferguson, Lucas Walter Schwent and Wife Amanda Schwent, and buried an infant daughter, Amanda Lynn Schwent.
Skeeter was drafted into the Vietnam War August 8,1968, where he served in the 9th Infantry Division overseas for 14 months and was honorably discharged in March 1970. While serving his country, he endured many things none of us will ever know or understand. Along the way received the following medals: National Defense Service Medal, Vietnam Service Medal, Vietnam Campaign Medal, Combat Infantryman's Medal, and the Bronze Star Medal. Skeeter truly loved his country, and very seldom, did he not raise and lower the flag in the front yard.
After returning from his time in the Army, Pam and Skeeter could often be found having the time of their lives with friends; Ricky and Bert Helms, David and Tammie Hasekamp, Don and Maryann Reed, Jerry and Sharon Estes, Larry Werner, Gary Fisher, and so many more. They truly were a staple in Bloomsdale.
Skeeter worked at River Cement Plant (Buzzi) for 40 years, from 1970-2010, except for the lockout of 1988, when he farmed for Loidas, to keep the lights on and the family fed.
He loved farming, his Ford tractors, drinking a cold one with anyone who would randomly stop by on any given day, but mostly, he loved his family and they gave him the same love in return.
He leaves behind, along with his Wife and Children, six grandchildren, that rarely went a day without seeing him; Allie (Andrew) Halley, Dakota Ford, Cole Ford, Lillian Schwent, Hazel Schwent, and Iris Schwent. Also, three great grandchildren; Nathan Ford, Leonardo Halley, and Oliver Halley.
Skeeter was a proud lifetime member of the VFW Post 2210 and American Legion 554.
Visitation will be at Basler Funeral Home in Sainte Genevieve, MO on Sunday, May 21, 2023 from 4:00 pm till 8:00 pm and Monday, May 22, 2023 from 8:00 am till 10:00 am
Service will be at Basler Funeral Home on Monday, May 22, 2023 at 10:00 am with full military honors performed by VFW Post 2210
Online condolences can be left at www.baslerfuneralhome.com.