JEFFERSON CITY, Mo. – The Missouri Department of Conservation (MDC) congratulates John Goad of Jefferson City for tying the current state record for longear sunfish. Goad was using a throwline on Frieda Lake in Crawford County May 8 when he caught the 5-ounce fish. The catch ties the previous alternative record, which was caught on a private pond in Franklin County July 3, 2021.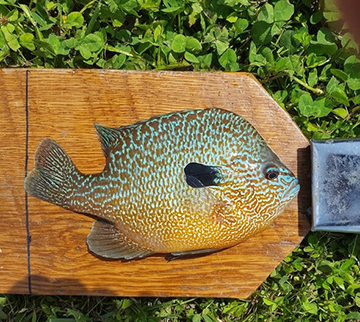 MDC confirms John Goad of Jefferson City is a new state record holder after catching a 5-ounce longear sunfish from a Crawford County lake. The fish ties with the current state record under alternative methods.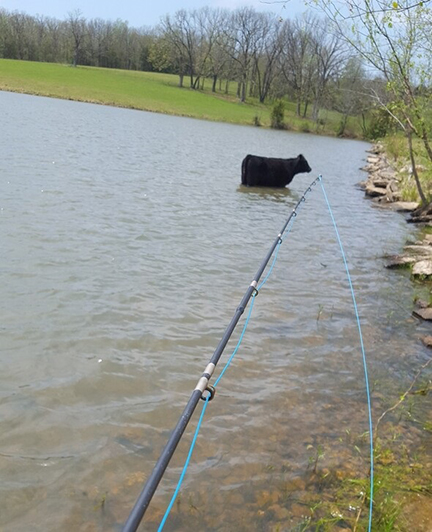 Goad was fly fishing from Frieda Lake in Crawford County May 8 when a yearling cow walked into the water. Goad said it wasn't until after the cow entered the water when he started having luck reeling in fish – ultimately catching his state record.
"I've been fishing this lake for around 10 years and I've caught crappie, bass, bluegill – all pretty good sizes," said Goad. "But I've known there are good sized sunfish for about 7 or 8 years and I've been trying to catch a record ever since."
Goad fly fishes frequently, ties his own flies, and builds his own rods. He said the day started out slow as he was only catching fish every 10 casts. That was, until an unexpected visitor came to the pond.
"All the sudden, a yearling cow heifer came down to drink," he said. "I moved down to give her space, and she crawls into the lake about belly deep. Then every cast, I caught a fish."
Goad suspects the cow stirred up the bottom of the lake, pushing the fish in one area, and possibly helping him catch his record.
The fish was weighed on a certified MDC scale in Jefferson City. Goad said he plans to mount the sunfish.
"I was five-years-old when I first caught a longear sunfish, so I've been after this for 70 years," he laughed. "Catching a record is a really tough deal. For an old guy and a veteran, I've seen a lot of things, so I was excited about this record."
Missouri state record fish are recognized in two categories: pole-and-line and alternative methods. Alternative methods include: trotline, throwline, limb line, bank line, jug line, gig, bow, crossbow, underwater spearfishing, snagging, snaring, grabbing, or atlatl. For more information on state record fish, visit http://bit.ly/2efq1vl.