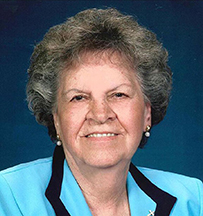 A funeral will be held Wednesday, May 17, 2023 for 98-year-old Juanita Louise Swyers of Festus who passed away May 10, 2023, at Mercy Hospital Jefferson in Crystal City.
She was born Dec. 5, 1924, in Kaskaskia Island, Ill., the daughter of the late Mary Elizabeth "Bessie" (McClain) and William Everett DeRousse.
She marrierd James E. Swyers. He preceded her in death.
She is survived by a daughter: Darlene (Jay) Beffa of Festus; three sons: James L. (RoseAnn) Swyers of Festus, Robert J. (Sandra) Swyers of Festus and Kevin E. (Jodi) Swyers of Portland, Ore.; a sister: Jewell (the late Thomas) Maloney of Ste. Genevieve; 15 grandchildren: JJ, Ryan, Tyson, Taylor, Aubre, Kaitlyn, Kelsey, Michelle, Stefanie, Kristi, Jodi, Jeremy, Denyail, Bryon and Chris; 30 great-grandchildren, with two more on the way; two great-great-grandchildren; and many other family members.
She was also preceded in death by a daughter: Diane Coleman; two sons: Jeff Swyers and Keith Swyers; three brothers: Raymond "Junior" (the late Bernetta) DeRousse, Clarence "Bucky" (Ann survives in Ste. Genevieve) DeRousse and Hunter DeRousse; three sisters: Jean (the late Donald) Brown, Eileen (the late Joe) Vogt and Ruby (the late Norville) Dickerson; and a grandson: James Andrew Swyers.
She was a lifelong member of Sacred Heart Church in Crystal City, where she volunteered to help with Martha Mary funeral dinners and wedding dinners and with the St. Vincent de Paul Society. She was a member of the Boy Scout Mother's Club for Troop 425 for many years.
Visitation will be 9-10:30 a.m. Wednesday, May 17, 2023 at the Vinyard Funeral Home, 616 W. Main, in Festus.
A funeral mass for 98-year-old Juanita Louise Swyers of Festus will be held at 11 a.m. Wednesday, May 17, 2023 at Sacred Heart Church, 555 Bailey Road, in Crystal City, officiated by Father Gregory Klump and Deacon Jerry Stoverink.
Burial will be in the Sacred Heart Cemetery in Crystal City.
Memorials may be made to the St. Vincent de Paul Society.
Arrangements are under the direction of the Vinyard Funeral Home