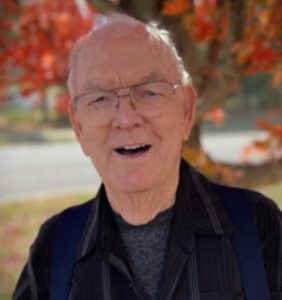 Greene "Hoot" Gibson, Jr., 88, of Red Bud, Illinois, went home to be with his Lord and Savior, Jesus Christ on Tuesday, February 28, 2023.
He was born in Hima, Kentucky on October 23, 1934 to the late Green and Susan (nee Gregory) Gibson who resided in Corbin, Kentucky.
He was married to Beverly Kay Richardson on December 12, 1954 in Lawrence, Kansas.
Hoot was a kind, generous man that loved his family above anything else. Nothing made him happier than to give of himself, always serving his family. He demonstrated unselfish love, and was forever faithful in caring for his wife of 51 years, Beverly Kay, until she passed in 2006. Those that knew Hoot would say he was a "teller of tall tales" & always kept those around him entertained with his stories and lots of laughter.
He was a proud US Air Force veteran, attaining the rank of MSgt, serving in both the Korean and Vietnam wars. After serving in the US Air Force for 26 years as a Security Policeman, he moved to Moses Lake, Washington where he worked as a custodian for Larson Heights Elementary School. He loved the teachers and children there. He lived in Moses Lake for 30 years. After his wife, Beverly Kay passed in 2006, he moved to Illinois to live and be near his youngest daughter.
Hoot found love again in Red Bud, Illinois and spent the rest of his days with his best friend, Loretta Buss. He attended Red Bud First Baptist Church and was a Past Worthy Patron of the Moses Lake Masonic Lodge. He loved people and would share a story with anyone willing to listen. He will be greatly missed by his family.
He is survived by his oldest favorite daughter, Donna and husband, Mike Byrd of Sedalia, Colorado; his youngest favorite daughter, Debbie and her husband, Philip Penrod of Columbia, Illinois; six grandchildren, Jeremy (Haley) Byrd, Christy (Warren) Kloter, Brandon Byrd, Joshua Byrd, Andy Penrod and Luke (Wendy) Penrod; and 11 great grandchildren, Abigail, Benjamin, Canaan, Ruby, Rayna, Avery, Asher, Selah, Kiersten, James and Everett; and his loving companion, Loretta Buss and her family, Susan and Will Harbaugh and Nancy and Ben Jans. He is preceded in death by his parents, wife, five sisters – Sophia, Claudia, Artie Elizabeth, Ruby Pearl and Mary and three brothers – Otis, David and Edward.
Visitation will be 1-2 p.m. Friday at the First Baptist Church, Red Bud, Illinois.
A memorial service for Greene "Hoot" Gibson, Jr., will be held at 2 p.m. Friday, March 10, 2023 at
First Baptist Church, Red Bud, Illinois. The Rev. Paul Kurrelmeyer will officiate.
A private inurnment was held at Jefferson Barracks National Cemetery, St. Louis, Missouri.
Memorials may be made to the First Baptist Church, Red Bud, Illinois.