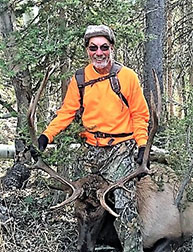 A funeral will be held Wednesday, Nov. 2, 2022 for 68-year-old James Grither of Ozora, Mo. who passed away Friday, October 28, 2022 at his home.
He was born August 1, 1954 in Perryville, Mo.
He married to Cheryl (Schmelzle) Grither on November 7, 1987. She survives in Ozora.
He is also survived by two daughters: Whitney (Garrett Bahr) Grither of Saint Louis, Mo., and Allie (Ryan Hogenmiller) Grither of Bloomsdale, Mo.; a son: Xavier (Elle) Grither of Ozora, Mo.; a brother: Steve (Sandy) Grither of Sainte Genevieve, Mo.; three sisters: Elaine (Bob) Schnur of Fenton, Mo., Paula (Paul) Burle of O' Fallon, Mo., and Maureen (Mark) Mattingly of Perryville, Mo.; and two grandchildren: Keller Hogenmiller and Vernetta "Nettie" Grither.
He was preceded in death by his father:  Xavier Grither; and his mother: Norma (Kuehn) Grither.
Jim loved spending time outdoors, hunting, cutting wood, gardening but most of all Jim was a devoted family man and he loved to spend time with his family.
A funeral for 68-year-old James Grither of Ozora, Mo. will be held at 10 a.m. Wednesday, November 2, 2022 at the Sacred Heart Catholic Church in Ozora. The Rev. James Schaefer wil officiate.
Burial will be at Sacred Heart Catholic Cemetery in Ozora, Mo.
Memorials may be made to Sacred Heart Church in Ozora or to the American Heart Association.
Online condolences can be left at www.baslerfuneralhome.com.