CHICAGO, Ill. – Illinois Humanities has awarded $230,000 to 46 humanities-based organizations across Illinois to support their continued recovery from the impacts of the COVID-19 pandemic. The 46 grantees are located across 20 Illinois counties, with 50 percent of the organizations based outside of Cook County.
"These organizations take the form of libraries, cultural hubs, history and community archives, and museums. Together, they form a breathtaking constellation of programs and services that are helping communities heal, reflect, and respond to these incredibly dynamic times," said Gabrielle Lyon, executive director of Illinois Humanities.
The grants are funded through the State of Illinois American Rescue Plan Act and are intended to help mitigate financial and audience losses experienced during the pandemic. Organizations will use funds to revitalize programming and produce public events.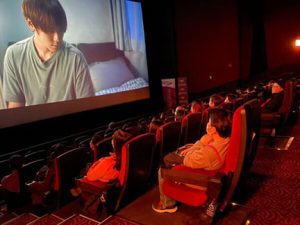 Movie-goers pack the house for a film premiere hosted by Asian Pop-Up Cinema.
(Image courtesy of Asian Pop-Up Cinema by Sophia's Choice)
"We hope that people will get to know this new cohort of grantee organizations and the important cultural work they do," said Mark Hallett, Illinois Humanities director of grants programs. "These groups are champions of the humanities – of history, of cultural activity and identity, or lifelong learning – serving diverse communities across the state. We're proud to support their work."  
Grantee Sophia's Choice, aka Asian Pop-Up Cinema, is a recipient of the grant, and will use the funds to continue producing a Chicago-based bi-annual film festival that aims to "foster an understanding for and appreciation of diverse Asian cultures."  
Like many groups, Asian Pop-Up Cinema felt the sharp economic impact of the pandemic, including an 80% decrease in ticket revenue. "We are committed to showing the common humanity experienced by all people regardless of national or cultural background," said Sophia Wong Boccio, executive director. "Fulfilling our mission takes on a greater sense of urgency and purpose during these times." The group recently announced a lineup of more than 30 film screenings for their 15th season.  
The grants are the third round of emergency relief distributed by Illinois Humanities after awarding $700,000 in 2020 and $1.4 million in 2021 with funding from the State of Illinois, the National Endowment for the Humanities through the American Rescue Plan Act, and private donations. 
The organization closely evaluated the impact of these relief initiatives and shared its findings in the 2020 report, On Wisdom and Vision: Humanities Organizations in Illinois During COVID-19. The needs identified in the report informed the organization's funding priorities for the latest awards, such as the need to prioritize funding organizations based outside of Cook County.
View the complete list of grantees on Illinois Humanities' website. 
About Illinois Humanities  
Illinois Humanities, the Illinois affiliate of the National Endowment for the Humanities, is a statewide nonprofit organization that activates the humanities through free public programs, grants, and educational opportunities that foster reflection, spark conversation, build community, and strengthen civic engagement. We provide free, high-quality humanities experiences throughout Illinois, particularly for communities of color, individuals living on low incomes, counties and towns in rural areas, small arts and cultural organizations, and communities highly impacted by mass incarceration. Founded in 1974, Illinois Humanities is supported by state, federal, and private funds. Learn more at ilhumanities.org and on Facebook, Twitter, Instagram, and LinkedIn @ILHumanities.