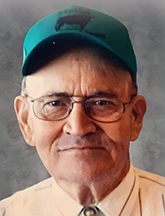 Richard Lee Statler, 86, of Perryville, Missouri passed away Thursday, June 16, 2022 at his residence.
He was born February 17, 1936 in Crystal City, MO to Oscar & Effie (Lix) Statler.
He and Virginia Horn were married in October 1958 at Whitewater Presbyterian Church.
Richard served in the United States Air Force Reserves.
He was an accomplished Black Angus livestock farmer.
He was a member of Whitewater Presbyterian Church and The American Angus Association.
Survivors include two sons, Gregory (Debbie) Statler, Roger Statler; two daughters, Vickie (Chuck) Collom, Sheila (Jimmy) Birk; two sisters, Mary Pickering, Gladys (Dean) Johnson, eleven grandchildren, three step grandchildren and numerous great grandchildren.
He was preceded in death by his parents; wife; two brothers, Freeman Statler, Raymond Statler.
Visitation will be 4:00 pm to 8:00 pm Thursday, June 23, 2022 and from 8:00 am to 10:00 am Friday, June 24, at Ford & Young Funeral Home in Perryville.
Funeral Service will be at 10:00 am Friday, June 24, 2022 at Ford & Young Funeral Home with Rev. Charles Mangles officiating.
Burial will be at Whitewater Presbyterian Church Cemetery in Sedgewickville.
Memorial contributions may be given to Whitewater Presbyterian Cemetery Association.
Online condolences may be made at www.fordandyoungfuneralhome.com.
Ford & Young Funeral Home is in charge of arrangements.