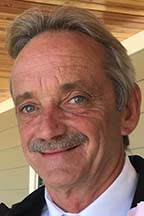 Kirk Lawrence Brown, 57, of Perryville, Missouri passed away Friday, June 17, 2022 in Perryville.
He was born August 14, 1964 in Perryville, MO to Fred Brown and Marie E.J. (Geile) Brown. Fred survives in Perryville.
Kirk was owner of Brown Heating & Air. He was of the Baptist Faith and booster of the V.F.W. Post 4292.  He enjoyed his time working, scuba diving, camping and boating, but most of all he loved spending time with his granddaughter.
Survivors include two Daughters, Katie (Zachary) Schremp and Kierstin Brown both of Perryville, MO; three Brothers, Keith (Tina) Brown of Perryville, MO, Kevin (Dianna) Brown of Festus, MO, Kent (Karen) Brown of Denver, CO; and one Grandchild, Karsyn Schremp.
He was preceded in death by mother.
Celebration of life will be held at a later date.
Memorial contributions may be given to Family Use.
Online condolences may be made at www.fordandyoungfuneralhome.com.
Ford & Young Funeral Home is in charge of arrangements.