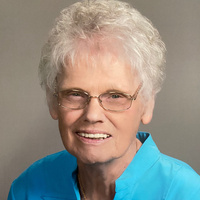 A funeral will be held today, November, 29, 2021 for 81-year-old Irene A. Dierks of Chester, Illinois, who passed away at 9:26 am, Thursday, November 25, 2021, surrounded by her four children at St. Francis Medical Center in Cape Girardeau, Missouri.
She was born April 4, 1940, in Chicago, Illinois, the daughter of the late Helmer and Helen (nee Peterson) Olson. Due to her parents death when she was three years old, she became an orphan and was placed in foster care until the age of 11, when she was adopted by Isadore and Freda Moll in Chester, Illinois.
Irene married Marvin E. Dierks June 20, 1959 in Chester, Illinois; he preceded her in death on April 10, 2015.
She is survived by a son: Leland (Ange) Dierks of Evansville, Indiana; three daughters:   Linda (Jim) Schlueter of Sparta, Ill., Cheryl (Jack) Houghlan of Chester, Ill. and Susan (Gary) Wright of N. Ft. Meyers, Fla.; eight grandchildren: Andrew Schlueter, Jordan (Stephanie), Link, Parker & Claire Dierks, Zack Houghlan, Alesksa and Glenn Wright.
May the Lord grant them comfort and peace in their loss of a loved one.
She was also preceded in Death by a brother: John Moll, three sisters: June Olson, Alice Kyjek and Beverly O'Shea, and two grandsons: Ben and Joshua Schlueter.
She first worked as a secretary at the Chester High School for one year.
Then was a homemaker until the youngest of their four children entered kindergarten.
She then was employed at Chester Memorial Hospital for 21 years, where she was a secretary for the engineering department and in the medical records office.
She was an organist for the Peace Lutheran Church and then St. Johns Lutheran Church retiring after 61 years of faithfully playing at many weddings, funerals, and church services.
She was also a member of the LWML and enjoyed quilting with the ladies.
Irene and Marvin loved music.
She would play the piano once she moved to the Chester Manor for the enjoyment of her fellow residents.
There she also enjoyed playing cards, doing crafts, and playing bingo.
Each year, Irene would donate dolls that she had sewn and crocheted clothes for.
They were then donated to orphanages and the St. John Lutheran School's annual auction.
Visitation: 9-11 a.m. today, November 29, 2021 at St. John Lutheran Church, Chester, Illinois
Funeral Service: 11:00 a.m., today, November 29, 2021 at St. John Lutheran Church, Chester, Illinois. Officiating: Rev. Justin Massey.
Interment: Paradise Cemetery, Steeleville, Illinois
Memorials: St. John Lutheran Church, Chester, IllinoisTo plant Memorial Trees in memory of Irene A. Dierks, please click here to visit our Sympathy Store.