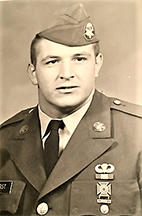 A funeral will be held Tuesday, November 30, 2021 for 73-year-old Everett E. Hearst of Barnhart, who passed away Thursday, November 25, 2021 at Country Meadows in Park Hills, Mo.
He was born May 7, 1948 in St. Louis, Mo. the son of Everett Hearst and Herminia (Schmidt) Hearst, who both preceded him in death.
He is survived by a sister: Cindy (Terry) Brooks of Barnhart, Mo.; a brother: Russell (Yvonne) Hearst of De Soto, Mo.; several nieces and nephews.
He was also preceded in death by a sister: Karen Kinder.
Everett served in the United States Army with the 173 Airborne Division during the Vietnam War.
A funeral for 73-year-old Everett E. Hearst of Barnhart will be held at 2 p.m., Tuesday, November 30, 2021 at the Jefferson Barracks National Cemetery. The Rev. Derek Jones will officiate.
Burial will be at Jefferson Barracks National Cemetery with full military honors.
Memorials may be made to Disabled American Veterans
Online condolences can be left at www.baslerfuneralhome.com.
To send flowers to the family or plant a tree in memory of Everett E. Hearst please visit our Tribute Store.