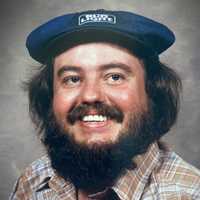 A graveside service will be held Saturday, November 13, 2021 for 65-year-old Gerald "Curly" W. Pollard of Red Bud, Illinois, who passed away Wednesday, November 10, 2021 at his residence.
He was born December 23, 1955 in Red Bud, the son of Elmer and Lena Geraldine (nee Prater) Pollard, Sr. who both preceded him in death.
He is survived by his siblings: Connie Pierce of Vienna, Ill., Gail (Kendall) Sargeant of Vienna, Carol (Roy) Elledge of Vienna, Tammy Doyle of Quincy, Ill., Becky (Warner) Jamison of Bismarck, North Dakota, Elmer (Susie) Pollard Jr. of Red Bud, Lena Snider of Vienna, Ill., Jennifer (Mike) Smith of Waterloo, Ill.; nieces and nephews: Michelle Winterrowd, Randall Sargeant, Anthony Sargeant, Patricia Calhoun, Crystal Doyle, Jeannie Ellwein, Joshua Pollard, Steven Sargeant, April Jamison, Tyler Elledge, Jonathan Pollard, Butch Doyle, Kelsie Holland, Justin Pollard, Walter Olsen IV, Chandra Crawford, Cory Elledge, Jessica Jones, Jerrica Garcia and Kristen Jamison and 36 great nieces and nephews.
He was also preceded in death by three siblings: Terry Jamison, Peter Lynn Pollard and James Howard Pollard.
He had worked as a machinist at Red Bud Industries in Red Bud, and TG in Perryville, Missouri.
He was also a farmer.
He was a member of the Moose Lodge No. 1764 in Chester, Illinois.
He enjoyed working on cars and lawn mowers.
A graveside service for 65-year-old Gerald "Curly" W. Pollard of Red Bud will be held at 12 noon, Saturday, November 13, 2021 at the Red Bud City Cemetery, Red Bud, Illinois. Roy and Tyler Elledge will officiate.
Memorials may be made in Gerald's memory to the Moose Lodge in care of the Pechacek Funeral Home in Red Bud.To plant Memorial Trees in memory of Gerald "Curly" W Pollard, please click here to visit our Sympathy Store.