CHESTER — This is the 2023-2024 Chester High School Boys JV basketball Team.
The boys have been practicing for just a week and have been starting to gel already.
The JV Head Coach is Tony James,
The JV will open its season alongside the Varsity Jackets Tuesday November 21 at home vs Anna-Jonesboro and Wednesday November 22 at Pinckneyville.
The JV will tip-off at 6:15 p.m. vs A.J. and 6:00 p.m. at Pinckneyville.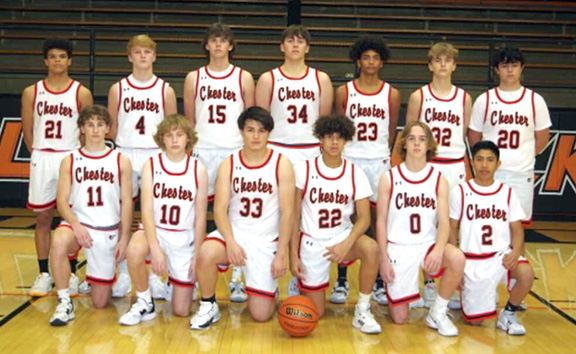 The JV YellowJackets include (Front row, left to right on knees): Jack Heffernan (11), Tallen James (10), Derrius Shoemate (33), Denis Vasquez (22), Zane Eggemeyer (0), and Franklin Jimenez Velasquez (2). (Back row, left to right, standing): Tashawn Palacio (21), Tray Peters (4), Evan Dunning (15), Brenden Malley (34), Gabe Coffman (23), Trey McCartney (32), and Caleb Richmond (20). Jim Beers Photo