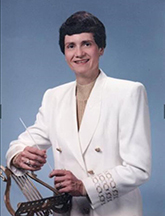 Patricia Ann Mary Schwent, 74, of Jackson, Missouri departed this life to be with her Lord on Saturday, November 4. 2023.
She was born June 17, 1949, in Sainte Geneveive, Missouri, the daughter of William P. and Melvadean G. (Conardy) Kiefer.
"Patty", as she was known in Ste. Genevieve, attended Valle Catholic Schools, graduating in 1967.
She received an Associate Degree in Music from Mineral Area Community College and Bachelors (Magna Cum Laude) and Master's Degrees in Music Education from Southeast Missouri State University.
Pat was married on December 21, 1970, to her grade school sweetheart, Timothy James Schwent, son of Stanley James and Patricia Ann (Maness) Schwent.
To this union were born Nicole Melissa in 1978, and William Stanley in 1983.
She is survived by her husband, Timothy "Tim" of Jackson; daughter Nicole "Nikki" (Darren) Allcock of Cape Girardeau, Missouri; son William "Bill" (Julie) Schwent of Fort Collins, Colorado; and three grandsons, Luke Allcock, Matthew Allcock and Callan Schwent.
Also surviving is one sister, Debra Ann (Mike) Nelson of Cape Coral, Florida; three sisters-in-law: Sue (Tom) Kohm of Jackson, Mary (Tim) English of Magnolia, Texas, and Clare (Allen) Roth of Ste. Genevieve; and six brothers-in-law: Gregory (Doris) Schwent of Desoto, Missouri, John (late Suzanne) Schwent of LaMarque, Texas, Stanley (Janet) Schwent of Ste. Genevieve, Joseph (Jane) Schwent of Bloomsdale, Missouri and Mark (Amy) Schwent of Fenton, Missouri. Fifty-four nieces and nephews also survive.
Pat was preceded in death by her father, mother, a sister Brenda, Tim's parents, and two brothers-in-law, Dennis Schwent and Gerard Schwent.
Pat began her professional career in 1971, as Band Director at Woodland Schools in Marble Hill, Missouri. In 1975, she joined Nick Leist at Jackson R-2 Schools. They were later joined by Scott Vangilder and together developed an already fine band program into one of the most respected high school instrumental music departments in the state of Missouri.
Pat developed the Jazz Band at Jackson, and her students routinely filled several seats in both the All-State concert and Jazz Bands (including both her own children).
Pat became the senior band director at Jackson after Nick's retirement, and retired herself in 2001, after thirty-one years.
"Sarge", as her students affectionately named her, touched the lives of over 15,000 students in a very special way.
One cannot mention Jackson or Woodland Bands without someone saying, "Yes, I was in band there. Pat Schwent was my band director".
Pat also played and was a board member in the Jackson Municipal Band for over 45 years.
Pat was the front "player" in her sister Brenda's band, "The Swingtones". The all-girl band included sister Brenda, mother Melvadean, aunt Pat Friedman, sister Debbie, and Pat. They entertained country music lovers with dance music all over Southeast Missouri and Southern Illinois in the 1960s and 1970s.
Pat also played both alto and tenor saxophone in the Jerry Ford Orchestra in the 1980s and 1990s.
When Pat retired as a music educator, she still had one goal she had not achieved. Thirty years of teaching did not leave time for her to become a "real" jazz sax player, and she always wanted to "do it her way". So, she sought out and traveled to St Louis, Kansas City, Illinois, Tennessee, and Texas to take lessons from the best jazz teachers in the country.
The result was "The Saxy Jazz Quartet". She quite by accident became paired up with Pete Parysek, a retired former professional piano player in the Reno/Lake Tahoe area, and began playing gigs in Southeast Missouri in 2001.
After a few years, the group finally gelled to include Sam Godwin on bass, vocalist Julie Henry-Lohman and drummer Mark Ellison. Saxy Jazz would gain wide acclaim as their repertoire included not only Jazz but also blues, swing, Motown and classic rock.
Pat was undoubtably the finest Jazz Saxophonist between St Louis and Memphis. She had achieved her goal and after seventeen years she retired again and cased her horns for the last time in December 2017.
Pat was a devout Catholic and member of Immaculate Conception Church in Jackson for 53 years. She was known for her devotion to Mary, the Blessed Mother of Jesus, and to praying the Rosary. She helped establish the daily pre-Mass Rosary at Immaculate Conception Church, and she was most thrilled recently to be joined there by her five-year-old grandson, Callan, who occasionally helps lead those prayers.
She mostly enjoyed being with her family, children and grandchildren, riding bicycles, walking and fishing for trout with her husband at their Montauk retreat.
Father Randolph Tochtrop will observe Parish Prayers and a Rosary at 4 p.m., Tuesday, November 7, 2023, at McCombs Funeral Home and Cremation Center in Jackson. Visitation will begin at approximately 4:30 p.m., concluding at 8 p.m.
A brief visitation will be held from 9 to 9:30 a.m., Wednesday, November 8, 2023, at the funeral home.
Father Randolph Tochtrop will celebrate the Funeral Mass at 10 a.m. Wednesday at Immaculate Conception Catholic Church in Jackson. Interment will follow at St. Mary's Catholic Cemetery in Cape Girardeau.
If considering a memorial contribution, the family suggests Immaculate Conception Parish New Church Pipe Organ Fund. To donate make a personal check to Immaculate Conception "Organ Fund" and leave at the funeral home or send to IC.
Online condolences may be sent to the family by clicking on the tribute wall tab above Pat's obituary article at mccombsfuneralhome.com.