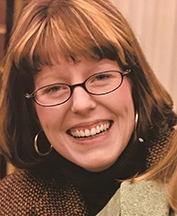 A private service will be held for 46-year-old Katherine A.  Hoffer of Perryville who passed away Sunday, November 5, 2023 at her residence.
She was born March 19, 1977 in Bethesda, Maryland., to Jayme and Margaret A. (Tackett) Hoffer.
She was a member of St. Vincent de Paul Catholic Church.
Survivors include a daughter: Johannah N. Hoffer of Perryville, Mo.; her father: Jayme and step mother: Robin Hoffer of Cape Girardau, Mo.., a brother, Kevin M. Hoffer of Charlottesville, Virg.; two step brothers: Brian and Kyle; a step sister: Leah and an aunt: Sharon Hoffer.
She was preceded in death by her mother.
Services are private for the family.
Online condolences may be made at www.fordandyoungfuneralhome.com.
Ford & Young Funeral Home is in charge of arrangements.