ALTENBURG – The East Perry Community Fair has announced that East Perry County couple Bill and Nelda Koeberl will be honored as the Grand Marshals of the 2023 East Perry Community Fair parade. 
The annual Fair parade will be held on Friday September 22nd at 1:30pm and will run through the heart of Altenburg.  The route begins at Maple Street in Altenburg and travels east down Main Street till it reached Church Street.  At this point the parade makes a right turn and heads south on church Street till its conclusion at the fairgrounds.
The parade will again include its usual cast of great participants.  Local high school bands from Perryville, St. Vincent, Oak Ridge, Meadow Heights, along with Chaffee, Greenville, Puxico, Bernie, and the Bell City Drumline will help set the beat as local schools, civic organizations, and area businesses march, enter floats, or display other entries to promote their causes.  On average, the parade has been lasting around one hour, so plan to arrive early into Altenburg to find a clear, comfortable viewing spot and to avoid heavy traffic.  The standard traffic flow into Altenburg is stopped around 1:00pm to allow for parade line up, so plan accordingly if you're expecting to attend.
As for the esteemed Grand Marshals and leaders of this year's parade, Mr. and Mrs. Koebel, there is no doubt they will be prepared and ready for this year's version.  As you will see, Bill knows a thing or two about organizing a parade, and his wife, Nelda, has been apart of enough EPC Fair Parades to know how to make it a success.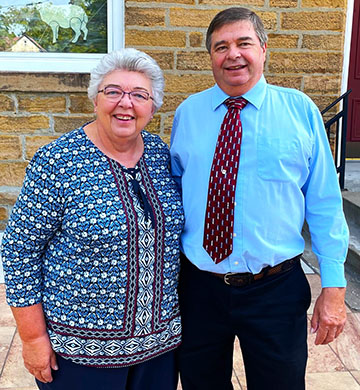 William and Nelda Koeberl, 2023 East Perry Community Fair Grand Marshals
The list of names in the records of past East Perry Community Fair Parade Grand Marshals will show a variety of individuals.  Political figures, TV Celebrities, Business Owners, Fair Supporters, and Local Legends. These names highlight the cast of past honorees.  This year, The Fair Board is proud to add two more deserving names to this distinguished list.  The Board proudly announces Bill and Nelda Koeberl, two individuals who are pillars of the community and dedicated supporters of the East Perry Community Fair, as the 2023 Fair Parade Grand Marshals.
William, "Bill" as he goes by, is a lifelong resident of Altenburg.  Born and raised in the Altenburg area, Bill is a 1973 Graduate of Perryville High School.  Training from The Cleveland Institute of Electronics and Logging courses from the Missouri Forest Products Association have helped to shape his work career.  Mr. Koeberl worked for East Perry Lumber Company, and Sabreliner before starting his own business, William Koeberl Logging in 1994, which he continues to run today. 
Nelda was born and raised in Altamont, Illinois.  She is a Graduate of Illinois State University in Normal Illinois with a BS in Education.  She has also earned a Lutheran Teaching Diploma from Concordia University, Chicago.  Education, as you will see, is really what makes Nelda stand out.  She began her teaching career in Hardin, Illinois which is where she met Bill and history would begin to be made.  They married in 1977, 46 years together now, and around that same time, Mrs. Koeberl would begin her forty-five-year teaching career in the Lutheran Schools of Frohna and Altenburg.
Fifty years of teaching!  That is an incredible amount of time and dedication.  Five years in Hardin and another forty-five years split between Concordia Trinity Lutheran School and United in Christ Lutheran School at which she taught 1st and 2nd grade and a few years of kindergarten shows the love and support she has for the children in East Perry County who have graced her classroom.  It also is a testament to her faith in God and ability to teach that she was able to touch and mold generations of students who in turn remember fondly, the lessons learned in Mrs. Koeberl's classroom.  Mrs. Koeberl retired her teaching books in May of 2022 but her years of teaching service to this community truly make her more than worthy of the honor of Grand Marshal.
Let's give Bill his due as well.  Mr. Koeberl's service to the East Perry Community Fair goes back many years.  Bill is a former Board Member and has served in helping to run the Daft and Saddle horse shows throughout the years.  He has and continues to operate and maintain the PA system throughout the fairgrounds.  Bill can be found weeks ahead of the fair going speaker to speaker across the grounds testing each one to make sure they are all in operation when needed during the fair. 
But where you are most likely to know Bill from is the start of the Parade route.  For years, it's Bill's efforts that make sure the East Perry Community Fair has one of the nicest, well-organized Parades around.  Mr. Koeberl spends countless hours before the parade, and the entire Friday morning leading up to the Parade organizing and arranging parade participants to make sure the Parade is a success and goes off without many hiccups.  Bill's leadership of the Parade committee, his dedication to his fair duties, and his desire for things to be done right are exactly why the East Perry Community Fair is as successful and attended as it is.
The Koeberl's are truly a blessing to their community.  Active in their Church, Trinity Lutheran in Altenburg, Nelda uses her Musical talents to play piano and direct the Adult Choir, leading the singing group for the last 37 years.  While Bill stays busy serving in Elder and Trustee roles along with ushering most Sundays and running the Church's Sound Board.  It's a true testament to how dedicated this couple is, and how lucky those around them are that they share their talents.
It will be a different feeling for the Koeberl's on Parade Day this year.  Instead of watching everyone take off on the Parade route and anxiously hoping that all goes well, Bill and Nelda will be right up front leading and hopefully relaxing and enjoying their well-deserved ride through the town of Altenburg.  Please come out and give the Koebel's a wave as they pass by on the route and join the East Perry Community Fair as we celebrate Bill and Nelda Koeberl the 2023 Fair Grand Marshals.