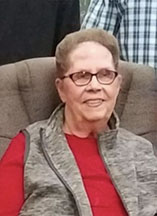 A memorial mass will be held Saturday, September 30, 2023 for 85-year-old Alberta "Bert" Magdalena Wilson of Kaskaskia Island, Illinois, who passed away Monday, September 18, 2023
at Maplebrook Assisted Living in Farmington, Mo.
She was born August 22, 1938 in Perryville, Mo., the son of Perl "PJ" Lawrence and Edith Lawrence who both preceded him in death.
She married George Wilson. He preceded her in death.
She is survived by two sons: Bradley (Angela) Lankford of Chester, Ill., and Steven "Steve" (Sarah) Lankford of Bonne Terre, Mo.; a stepson: Tom (Chris) Wilson; a daughter-in-law: Darla Lankford; grandchildren: Chad Lankford, Sarah Payne, Becky Bates, Johnathon Lankford, Chris Lankford, Jessie Lankford, Lisa Lankford, Shelby Marler, and Morgan Langston; and 11 great-grandchildren; nieces: Kathy Lankford and Joann Cox; nephews; Craig Doza and John Burch; sisters-in-law: Margaret Wilson and Mary Littrell
She was also preceded in death by a son: Bruce Lankford; a sister: Dorothy Burch; a special nephew: Ronald Doza; and a sister-in-law: Martha Lou Doza.
Alberta loved playing cards especially Skip-Bo.
She enjoyed traveling with her husband and will be dearly missed.
A memorial mass will be held at 10 a.m. Saturday, September 30, 2023 at Immaculate Conception Church on Kaskaskia, Ill.
Graveside services are private.
Memorials may be made to Serenity Hospice.
Online condolences can be left at www.baslerfuneralhome.com.