Chester improves to 1-3 with first win of the season
BY JIM BEERS
CHESTER – The Chester High School YellowJacket Football Team traveled to Christopher Friday September 15 to take on the Bearcats from the combined Christopher-Zeigler-Royalton team, otherwise known as C-Z-R. The Cats play in the Black Diamond Conference.
The YellowJackets stung the Bearcats by a significant 31-point margin, 55-24, on a nice fall evening. The Jackets were never really challenged leading 7-0 after the first quarter and 34-8 at halftime.
After the popcorn break, Chester added another 21 points in the third quarter vs C-Z-R's eight points to lead 55-16 after three periods. In the final frame, C-Z-R added another touchdown and ran for the 2-extra points, while the Jackets were scoreless for a final score of 55-24.
Chester Head Coach Billy Belton said, "We had seven different players score touchdowns tonight. We really looked good in all three phases throughout the game. Defense had a touchdown, Special Teams had a touchdown, and the entire offense was very efficient!"
"The Offensive Line had a great game. We averaged something like 4-yards a rush and did not have any sacks for the game. They played really great. I don't think that Zain Al-Jassim, our quarterback, was touched the entire game."
"I am really impressed with the way they have been playing the last couple of weeks. Our boys are really coming together. Zain and Devante Palacio hit on some big plays. Zain was 3-for-13 in passing. Very efficient!"
"Devante was over 100 yards in receiving and had a rushing touchdown. Gage Hopkins and Garret Hopkins both scored touchdowns. Kolton Jany had a great game running the ball."
The defensive line did a great job controlling the line of scrimmage. They had a great game with a bunch of tackles for a loss. Cayden Brunkhorst had a great game with a pick!"
In the game, Chester ran a total of 42 plays. CZR ran 48 plays. The YellowJackets accumulated a total of 321 yards vs CZR's 276 yards. As usual, the YellowJackets had 225 passing yards. CZR recorded 239 yards in the air.  On the ground, Chester had 96 yards running and CZR had 37 yards rushing.
CHS recorded 12 first downs and CZR had 11 first-and-tens. On 3rd downs, Chester was 2-for-6 (33%) while CZR was 4-for-10 (40%).
Chester played a good, strong game with no turnovers.  CZR was intercepted twice. Chester had four penalties for a total of 29 yards. CZR had three penalties for 21 yards.
It was great to see Chester score with ease in the game against CZR. In the nice win, the Jackets scored eight times. The Bearcats scores three times.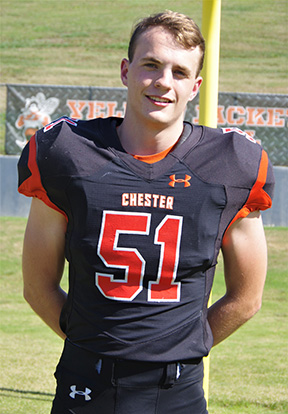 Chester's Garret Hopkins (51) a 6'0″, 170 Lb. senior had a great game in the 55-24 win over the Christopher-Zeigler-Royalton Bearcats of the Black Diamond Conference. In the win Hopkins scored his second touchdown of the season on a fantastic 49-yard kickoff return to start off the third quarter YellowJacket scoring spree. Hopkins also had a great defensive game with two solo tackles, seven tackle assists, one tackle for a loss, and one quarterback sack. Last week Hopkins scored Chester's only touchdown against Freeburg when he recovered a fumble at the 2:46 mark of the 4rth quarter and ran it in for a 23-yard TD. Jim Beers Photo
In the first quarter Chester's Kolton Jany scored on a 7-yard run and Karim Landeros kicked the extra point. The Bearcats were shut out in the first period. Chester led, 7-0 after one quarter of play.
The second quarter was a busy time for the YellowJackets as CHS scored four touchdowns. Aden Runge scored on a 1-yard run with Karim Landeros kicking the extra point. Devante Palacio ran it in for a 15-yard TD and Landeros connected for the extra point.
Kolton Jany struck again on a 7-yard pass from Zain Al-Jassim and Landeros kicked the extra point. Chester's final touchdown of the half was when Gage Hopkins caught a 34-yard pass from Zain Al-Jassim and crossed the line for a TD. Landeros missed his first kick of the night. No extra point.
CZR scored its first touchdown of the game late in the second quarter on a 28-yard pass. The Bearcats successfully ran the ball for the two-point conversion. Chester led, 34-7 at halftime.
After halftime the Jackets got to work once again and added another 21 points to their 27-point lead. Garret Hopkins scored his second touchdown of the season on a 49-yard kickoff return and Karim Landeros got back on target and kicked the extra point.
Korbin Jany had a huge interception and ran 31-yards for a touchdown. Landeros kicked the extra point. Finally, Tray Peters ran for a 5-yard touchdown. Landeros kicked his 7th extra point of the game. For the night, Landeros was 7-for-8 (88%) in kicking extra points.
CZR scored its second touchdown of the game on a very nice 70-yard touchdown pass. The Cats ran for the 2-point conversion. After the third quarter, Chester led, 55-16.
In the 4th quarter the YellowJackets were scoreless. The Bearcats scored one last time on a 4-yard run and ran for a third, successful two-point conversion. The final score: Chester 55- Christopher-Zeigler-Royalton 24.
In the win, Chester's Zain Al-Jassim threw 13 passes and completed on 10 of them for a 77% completion percentage and 225 yards and two touchdowns. CZR completed 10-of-17 passes (59%) for 239 yards and two touchdowns. The Bearcats were intercepted twice.
Devante Palacio led the Jackets with three pass receptions for 113 yards. Gage Hopkins caught two passes for 65 yards and a touchdown. Aden Runge has two receptions for 34 yards and Kolton Jany caught three passes for 13 yards and one touchdown.
Chester ran the ball 25 times for 96 yards and four touchdowns. Kolton Jany led the Jackets with five attempts, 24 yards and one touchdown. Aden Runge had three attempts with 17 yards and one touchdowns. Devante Palacio ran the ball once for 15 yards and one touchdown.
Gene Bicket ran twice for 11 yards. Cayden Brunkhorst had two attempts for 10 yards. Logan Jausel ran three times for eight yards. Braxton Conder ran once for eight yards. Ethan Colvis had one attempts and gained six yards, and Justin Hayman ran three times for (-8) yards.
The Jacket defense played very well against CZR and showed glimpses of the "Orange Crush Defense" of days gone by. For the night, the YellowJacket defense recorded 18 solo tackles, 38 tackle assists, two quarterback sacks, and 4 tackles for a loss.
Ethan Colvis led the Jackets on defense with four solo tackles, three tackle assists, one quarterback sack and two tackles for a loss. Aden Runge had two solos and two assists. Cayden Brunkhorst had two solos and one tackle assists.
Gage Hopkins added two solos and three assists. Garret Hopkins was very active for the game with two solo tackles, seven assists, one tackle for a loss, and one quarterback sack. Nate Heuer recorded two solos, four assists, and one tackle for a loss. Gene Bicket added one solo and a pair of assists.
 Justin Hayman recorded one solo tackle. Korbin Jany had one solo and five assists. Jack Heffernan has one solo and one assist. Five other Jackets recorded tackle assists including Kolton Jany (1), Braxton Conder (1), Nate Maes (3), Morgan Miers (1), and Denis Hernandez-Vasquez (1).
Cayden Brunkhorst and Korbin Jany each had interceptions and Jany ran his interception back for a touchdown.
Next up for the YellowJackets will be a home game Friday September 22 when the Jackets host the Wesclin Warriors in the first Cahokia Conference Illinois Division game of the season. Kickoff will be 7:00 p.m. at W.O. Smith Field at CHS. Chester will introduce its brand new state-of-the-art scoreboard on that night.