BY JIM BEERS
CHESTER – The Chester High School Lady Jacket Golf Team improved to an overall record of 11-3 with wins over Red Bud and Sparta in Week 5 of the 2023 season.
CHS traveled to Red Bud Wednesday September 13 to compete in a triangular match against the Red Bud Lady Musketeers and the Steeleville Lady Warriors. Thursday September 14 the Chester ladies traveled to Sparta to play in another triangular match against the Sparta Lady Bulldogs and the Trico Lady Pioneers.  The Jackets won both matches.
Lady Jackets 193-Lady Musketeers 199
Chester won by a slim six-stroke margin over Red Bud. Steeleville could not field a team of four players and did not qualify for a team score.
The Lady YellowJackets were led by senior Camryn Luthy who shot 41 for the match to lead all golfers.  For her efforts Luthy earned her 6th Medalist honor of the season.
Other Chester golfers included Rylie Myers, a sophomore, who had a match of 49 strokes (3rd). Riley Lochhead, a sophomore, shot 51 as Chester's No. 3 golfer (6th). Rylie Conley, a junior, had a 52-stroke performance finishing No. 4 for CHS and 8th overall. Conley took last year off to play volleyball and has done a great job of re-connecting with her golf skills in 2023.
Sophomore Macy Bert turned on a score card of 56 strokes as Chester's NO. 5 golfer and 8th in the match. Addy Gottschammer was the No. 6 finisher for the Lady Jackets shooting 62 in the 9-hole event. Gottschammer finished 14th overall.
Red Bud's Raeleigh Rosson was the Lady Musketeer's top golfer with her round of 46 strokes. She finished 2nd overall. Other Red Bud scores included Olivia Schmidt (50, 4th), Makayla Kiefer (51, 5th), Lydia Koesterer (52, 7th), Payton Burmester (54, 9th), Olivia Stoeckel (61, 12th), and Makennah Nicole Harless (66, 15th).
Steeleville had only one player. Miranda Rodewald shot 57 for the match to finish 11th out of 15 golfers.
Chester Head Coach, Meg Schnoeker said, "The Lady Jackets traveled to North County Country Club in Red Bud today to secure two more wins against Red Bud and Steeleville with a team score of 193. Camryn Luthy wins another medalist title with a score of 41."
Chester shoots 202 to win Sparta Triangular match
The Lady Jackets raveled to Sparta Thursday September 14 and competed against the Sparta Lady Bulldogs and the Trico Lady Pioneers. Trico was able to field four players to qualify for a team score. Sparta had a team score of 242.
In the win, Chester's only senior golfer, Camryn Luthy, had a game of 39 strokes to lead all golfers for the 7th time this season.
Other Lady Jacket scores included Riley Lochhead (52), Addy Gottschammer (55), Rylie Myers (56), Macy Bert (59), and Rylie Conley (65).
With the win, the Lady Jackets improved to 11-3 for the season.
Next week in Week 6 Chester will Chester will hit the road twice. Tuesday September 19 the Lady Jackets will play at Carlyle for a 3:30 tee-off. Thursday September 21 CHS will compete in the 2023 Cahokia Conference Tournament Okawville at the RBM GC. Tee-off will be 9:00 a.m.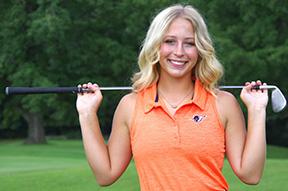 Chester High School senior, Camrynn Luthy, earn title honors at two matches in Week 5. Luty was the top golfer Wednesday September 13 in a triangular match against Red Bud and Steeleville. Luthy shot 41 to earn Medalist honors. Thursday against Sparta and Trico, Camryn shot 39 to lead all golfer. She has earned title honors seven times the 2023 season and is the No.1 golfer on the Lady Jacket Team. Jim Beers Photo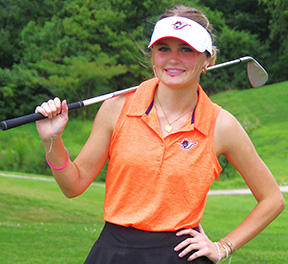 Riley Lochhead Chester High School Lady Jacket Golfer was Chester's No. 2 golfer in the win over Sparta Thursday September 14. Lochhead shot 52 to help her team win, 202 – 242, over the Lady Bulldogs and improve to 11-3 for the season. Jim Beers Photo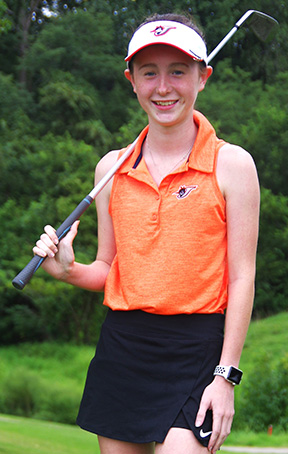 Chester High School sophomore Rylie Myers was the No. 2 Lady Jacket golfer in the win over Red Bud Wednesday September 13. The Jackets won, 193-199 and Myers shot 49 to finish 3rd overall out of the field of 15 golfers. Jim Beers Photo