Camryn Luthy earns another Medalist honor
BY JIM BEERS
CHESTER – The Chester High School Girls and Boys Golf teams both won vs. Cobden Monday September 11. The match was played at the Union County Country Club in Anna-Jonesboro. It was a dual match between the two schools
Lady Jacket, 209 – Cobden 248
The Lady Jackets continued to play well against the Lady Appleknockers, winning by 39 strokes, 209-248.
Chester's only senior girl, Camryn Luthy, earned Medalist honors again with her score of 41 strokes. Luthy has won Medalist honors five-of-the-six 9-hole matches in which the Lady Jackets have played this season to date.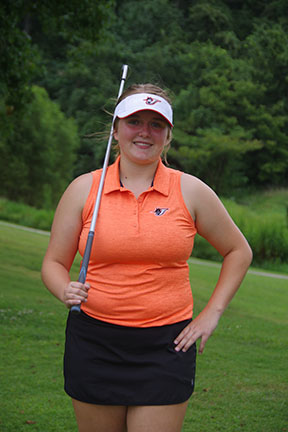 Lady Jacket junior Rylie Conley helped her team win against the Cobden Lady Appleknockers Monday September 11. Conley shot 59 to finish as Chester's No. 3 golfer in the match. The Lady Jackets beat Cobden, 209-248 in the dual match. Jim Beers Photo
Individual Lady Jacket scores are as follow:
Camryn Luthy 41 (Medalist)
Macy Bert 53
Rylie Myers 55
Rylie Conley 59
Riley Lochhead 60
Addy Gottschammer 64
Jessica Stumpe 65
Team Score: 209
The Lady Appleknockers scored as follow:
Kylie Baker Hale 49
 Allison McGee 63
Grace Hawkins 66
Nicole Basler  70
Marina Palmerin 79
The Lady Jackets will play again Wednesday September 13 at Red Bud teeing off at 4:00 p.m. and Thursday September 14 at Sparta with a start time of 3:30 p.m.
YellowJacket boys, 164 – Cobden NTS (No team score)
The Chester High School boys also traveled to Anna-Jonesboro with the girls to compete against Cobden, however, the Cobden Boys' Team was unable to field a team of at least four golfers. Therefore Chester won by default as the Appleknockers just had one golfer. Cobden's only golfer had a round of 51.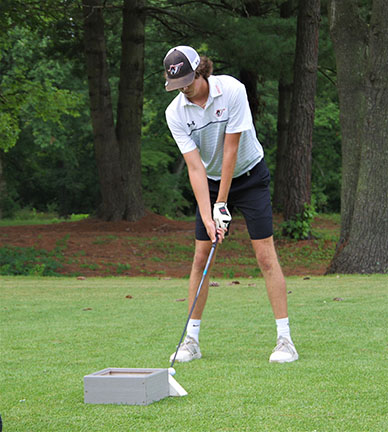 Evan Dunning, a Chester High School junior, earned Medalist honors Monday September 11 when the YellowJacket Boy's Golf Tsam traveled to Anna-Jonesboro Union County Country Club to compete against the Cobden Appleknockers. Dunning's low score of 39 was the best in the field and his performance helped CHS score 164 for the day to win the match. Jim Beers Photo
Individual YellowJacket golfer's scores included:
Evan Dunning 39 (Medalist)
Lucas Thompson 40
Tallen James 42
Brenden Malley 43
Noah Homan 51
Trevin Eggemeyer 53
The YellowJackets next match will be Tuesday September 12 at the Chester Country Club course when Red Bud comes to town. The match tees off at 4:00 p.m.