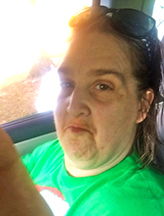 Diane Ann Ochs, 54, of Perryville, Missouri died Sunday, September 10, 2023 at the Southeast Hospital in Cape Girardeau.

She was born June 10, 1969 in Perryville, MO to Elvertis and Marcella (Renner) Wills.

Diane and Stanley Ochs were married in 1988 at the Perryville Courthouse.

She was housekeeper.

Diane enjoyed playing BINGO down at the Elks Lodge in Perryville. She loved the outdoors, especially fishing on the river or camping. She was also a big country music fan as well as an excellent dancer.

Survivors include her husband, two sons, Michael Ochs of Perryville, MO, Stan Ochs of Perryville, MO; brother, Joseph Wills of Fredericktown, MO; sister, Peggy Arnold of Perryville, MO; half-sister, Judy (Wayne) Shrum of Perryville, MO; uncle, Winfrind Renner of Perryville, MO; aunt, Norma Wills of Perryville, MO; nephew, Nicholas Arnold of Perryville, MO.

She was preceded in death by her parents; half-brother, Raymond Wills.

Memorial contributions may be given to Family Use.

Online condolences may be made at www.fordandyoungfuneralhome.com.

Ford & Young Funeral Home is in charge of arrangements.