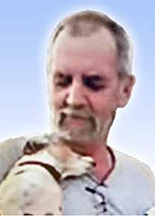 A memorial gathering was held Tuesday, August 29, 2023 for 69-year-old Billy Ray Strickland of Farmington, who passed away Wednesday, August 23, 2023 at Southbrook Skilled Nursing.
He was born June 18, 1954, in Farmington, Missouri to Sylvester and Georgia (Barnes) Strickland, who both preceded him in death.

In addition to his parents, Mr. Strickland was preceded by his loving wife of 23 years, Ellen in 2006 and siblings Marie Cunningham, Edna Strickland, Doris Copeland, Peggy Meggison, Robert Strickland, Johnnie Strickland and Roger Strickland.

Survivors include his brother: Dale (Sharon) Strickland and sister: Judy (Jim) Gillam; his beloved fur babies Peanut and Jasper; as well as many nieces, nephews and family and friends. Also surviving are Jim's Walmart work family of many years.

Billy grew up in the country on a farm in Ste. Genevieve County.
Many might remember him as a long-time employee of the Desloge Walmart and the Fredericktown Walmart.
He was a jack of all trades and enjoyed working on and restoring old cars, making wood things for the yard, and doing electrical, carpentry and plumbing jobs.
His family fondly remembers spending time swimming and playing with Billy in a nearby creek while growing up. He was a devoted and loving brother.
Billy also enjoyed fishing and deer hunting.

A memorial gathering was held Tuesday, August 29, 2023 for family and friends followed by a memorial service with the Reverend Dave Wiant officiating in the Cozean Chapel.
Interment was in the Little Vine Cemetery.