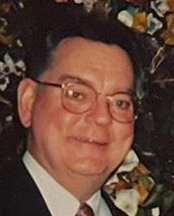 Michael James Hagan, 77, of Perryville, Missouri passed away Friday, September 1, 2023 at The Lutheran Home in Cape Girardeau, MO.
He was born September 12, 1945 in Corpus Christi, TX to James and Helen (Kittel) Hagan.
He and Dorothy Hagan were married May 6, 1967 in St. Louis, MO. She proceeded him in death on January 1, 2015.
Michael served in the United States Navy.
He was the Director of Safety and Enviromental Protection for Trans World Airlines.
Michael was a member of St. Vincent de Paul Catholic Church in Perryville, American Legion Post #133, Perryville Elks Lodge #2701 and Knights of Columbus #1263.
He enjoyed hunting and being involved with the airline industry.
Survivors include son, Chris (Wendy) Hagan of Grain Valley, MO; daughter, Colleen (Dennis) Foeller of Nesbit, MS; brother, Timothy Hagan of Bellingham, WA; two sisters, Fran Hagan of St. Louis, MO, Pat Maes of Florrisant, MO; four grandchildren, Carissa (Jacob) Evans, Tyler Hagan, Devin Foeller, Aidan Foeller; two great-grandchildren, Hailey Evans, Olivia Evans.
He was preceded in death by his parents; brother, Thomas Hagan; Sister, Kathleen Hagan.
Visitation will be from 4:00 pm to 8:00 pm on Tuesday, September 5, 2023 and continue from 8:00 am to 9:30 am on Wednesday, September 6, 2023 at Ford & Young Funeral Home in Perryville.
Funeral Mass will be at 10:00 am Wednesday, September 6, 2023 at St. Vincent de Paul Catholic Church in Perryville with Rev. Joe Geders C.M. Officiating.
Burial will be at Sacred Heart Catholic Cemetery in Florissant, MO.
Memorial contributions may be given to Providence Hospice.
Online condolences may be made at www.fordandyoungfuneralhome.com.
Ford & Young Funeral Home is in charge of arrangements.