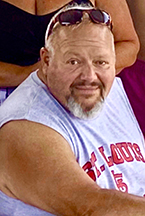 A celebration of life will be  held at a future date for 63-year-old Brian Gerard Figge of Sainte Genevieve, who passed away Thursday, August 31, 2023 at his home.
He was born December 10, 1959 in Perryville, Mo., the son of Clarence "Bud" Figge and Georgia "Pee Wee" (Herzog) Figge who both preceded him in death.
He married Sharon (Drury) Figge May 19, 1978. She survives in Ste. Genevieve.
He is also survived by two daughters: Angela Figge of Affton, Mo., and Amy (David) Kreitler of Hillsboro, Mo.; a son: Adam  Figge of Sainte Genevieve, Mo.; grandchildren: Cael Kreitler, Kacen Figge, Gavin and Kennede Parke; one great- grandson: Grayson Parke; a sister: Connie (Bryan) Christy of Mandeville, Louisiana; and several nieces and nephews.
He was also preceded in death by a brother: Ted Figge.
Brian's life long career was with Figge Electrical Service where he began and worked alongside his dad, who started the company, and his son Adam, who will carry on the business.
Brian enjoyed hunting, fishing, and especially camping.
He loved spending time with his family and grandchildren as well as his many friends. Brian was never seen without a smile on his face and was a wonderful husband, father, and papa. He will always be remembered and loved.
Celebration of Life will be held at a future date.
Memorials can be made to Crown Hospice