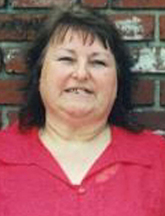 Betty J. Robinson, 68, of Perryville, Missouri passed away Monday, August 28, 2023 at Ste. Genevieve Care Center in Ste. Genevieve, MO.
She was born August 28, 1955 in St. Joseph, MI to John Russell and Hazel Marie (Vaughn) Handley.
Betty and Joseph S. Robinson were married November 3, 1989 in Poplar Bluff, MO.
She was the manager of Sunny Shores Mobile Home Park in Pontoon Beach, IL.
Betty loved to sew and enjoyed camping with her family, especially at the Christmas Festival in Branson, MO every year.
Survivors include her husband, Joseph; son, Justin Lee Woodruff of Poplar Bluff, MO; daughter, Melanie ((Danielle Tyler)) Woodruff of Farmington, MO; brother, Russell Handley of Poplar Bluff, MO; sixteen grandchildren, Josh Nattier, Tyson Gibson, Zach Woodruff, Olivia Woodruff, Nevaeh Parker, Chason Pritchard, Brooke Jones, Carson Jones, Remington Jones, Kaidynce (Dallas) Ferguson, Dean Shad, Faith Rose Marie, Lacey Decker, Kurt Shad, Eva Mattingly, Kasey Gowen; five great-grandchildren, Bodyn Ferguson, Ryder Moore, McKayla Moore, Paxton Shad, Wade Decker.
She was preceded in death by her parents; daughter, Dana Marie Allen; grandson, Thomas Scott Allen.
Visitation will be from 4:00 pm to 7:00 pm on Thursday, August 31, 2023 and continue on Friday, September 1, 2023 from 8 am to 10 am at Ford & Young Funeral Home in Perryville.
Funeral Service will be at 10:00 am Friday, September 1, 2023 at Ford & Young Funeral Home in Perryville with Rev. Don Estes officiating.
Burial will be at Little Prairie Cemetery in Caruthersville, MO.
Memorial contributions may be given for Family Use.
Online condolences may be made at www.fordandyoungfuneralhome.com.
Ford & Young Funeral Home is in charge of arrangements.