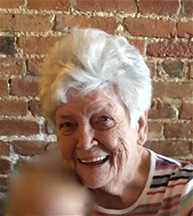 The Basler Funeral Home has announced the death, Saturday, August 19, 2023, of 89-year-old Shirley M. Bishop of Sainte Genevieve, Mo. who passed away Saturday, August 19, 2023 at her home in Sainte Genevieve, Mo.
She was born August 7, 1934 in Dupo, Ill., the daughter of Damos T Guess and Helen M (Mathews) Guess who both preceded her in death.
She married Carl Bishop on January 3, 1953.
They celebrated their 70th wedding anniversary this year.
She is survived by her husband: Carl E Bishop of Sainte Genevieve, Mo.; a daughter: Carla (Brad) Chandler of Foristell, Mo.; three sons: Thomas (Susan ) Bishop of O'Fallon, Mo., Richard Bishop of St. Louis, Mo., and Brian (Jennifer) Bishop of Richland, Mich.; a sister: Irma Proffer of Dupo, Ill.; seven grandchildren and seven great-grandchildren.
She was preceded in death by her sister: Doris (James) Chandler; and her brother-in-law: Clinton Proffer.
Shirley's wishes were to donate her body to science.
She was a member of a hospital auxiliary, V.F.W. Auxiliary, and a volunteer of nutrition center.
Shirley dearly loved her children and grandchildren.
She enjoyed jigsaw puzzles, Bingo, and reading.
Online condolences can be left at www.baslerfuneralhome.com.