Series of 'back-to-school' preparation sessions help prepare students for successful year
BY JIM BEERS, Contributing Writer
​CHESTER – School is back in session for the 2023-24 school year and Chester High School Principal, Jeremy Blechle, and all CHS Staff engaged students in several "back-to-school" preparation activities on the first two days of the new year to help acclimate them for a successful return to school.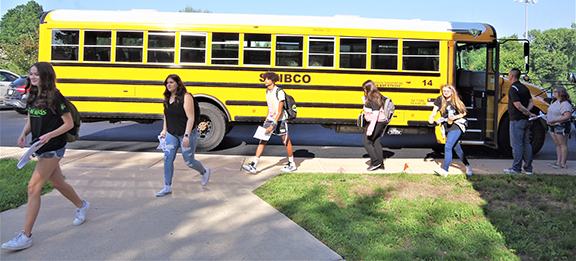 Chester High School students take part in Bus Emergency Drills 8-16-23 in preparation for the 2023-24 school year.  This drill was part of the 1st Day of School activities which involved all CHS students. Jim Beers Photo
Blechle said, "We have done this type of activity for the past two years and it seemed to be helpful in getting many of the annual 'housekeeping' duties out of the way in a two-day period."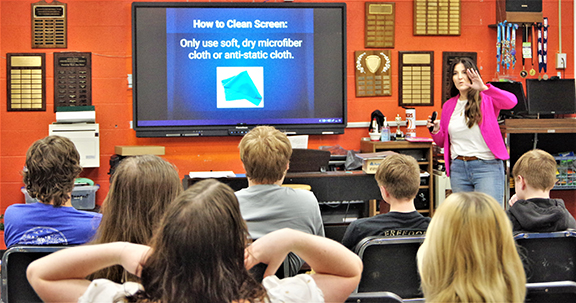 Sara Hammel, CHS teacher, presents the session regarding proper care of CHS Chromebooks at the opening day "Back-to-School" activities held at Chester High School 8-16-23. Jim Beers Photo
Shirley Stegmann, CHS Curriculum Director, added, "The first two days of school are usually somewhat stressful for students, especially freshmen, so we have found that having these first two days of laid-back sessions help to get student acclimated to the school itself and get many necessary chores and required tasks out of the way right off the bat."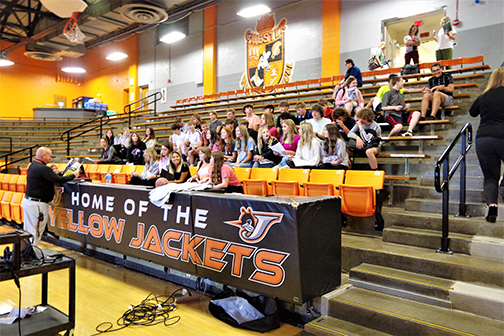 Jeremy Blechle, Chester High School Principal, presents a session regarding the CHS Code of Conduct and Proper Behavior on the first day of school August 16.
According to Stegmann and Blechle, on the first two days of school, Wednesday August 16 and Thursday August 17, the days are being spent with these back-to-school activities and half have of those days are spent in the classrooms getting to know their teachers.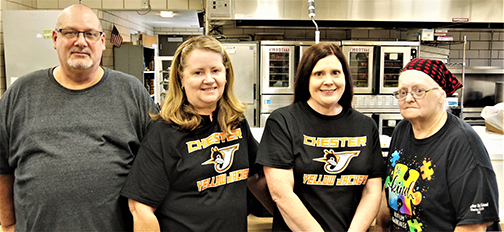 Chester High School Cooks and Kitchen workers prepare for the first meal of the 2023-24 school year Wednesday August 16. Pictured (left to right) are Billy Rose, the newest member of the staff, Tina Clark, Head Cook, Jaime Clasen, and Sue Inman. Jim Beers Photo
Wednesday August 16 students reported to Colbert Gymnasium for an opening day assembly from 7:55-8:20 where students were welcomed to CHS and introductions of teachers and staff were made.
Following the Welcome Assembly, students then spent the morning attending six different sessions. Those sessions took place from 8:21-8:54; 8:58-9:31; 9:35-10-07; and 10:11-10:43. Students were divided into eight groups by grade level, Group 1 and Group 2: Freshmen; Group 3 and Group 4: Sophomores; Group 4 and Group 6: Juniors; and Group 7 and Group 8: Seniors.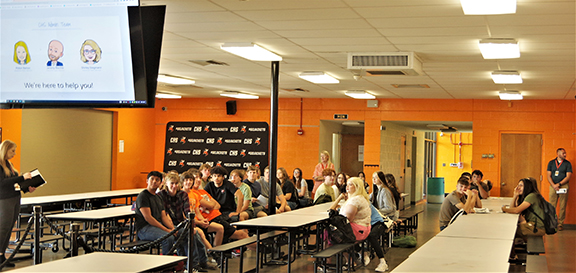 Robin Barton, Chester High School Assistant Principal, discusses the 2023-24 school year Student Handbook with students during one of six 1st Day of School educational sessions held Wednesday August 16. Jim Beers Photo
Day 1 Sessions included 1) Graduation Requirements; 2) Code of Conduct; 3) Jostens Opportunities, i.e., photos, class rings, etc.; 4) Chromebook Policy; 5) CHS Handbook; and 6) School Bus Emergency Drill and School Yearbook Photos. Mrs. Stegmann, and Mrs. Brown also discussed 5fth Hour opportunities with the students.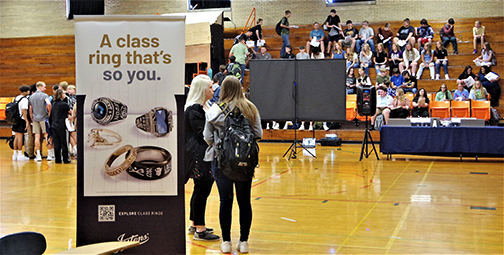 On the first day of school Wednesday August 16 Chester High School students attended a session presented by Jostens to discuss the purchase of Class rings, etc. Shown here students fill the bleachers in Juergen's Gymnasium at CHS to hear the information presented by Jostens staff. Jim Beers Photo
On Day 2, Thursday August 17, there will be sessions pertaining to 1) Extracurricular Opportunities, 2) Handbook, 3) 5th Hour Procedures and Opportunities, 4) Graduation Requirements, 5) Chromebook and Yondr Procedures as well as Parking Passes, 6) Code of Conduct, and 7) Chromebook Policy.
Friday August 18 will be a normal run-through of attending full class periods in respective classes according to the assigned student's class schedules.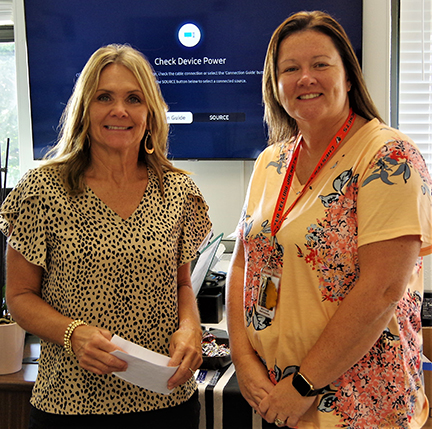 Chester High School Nurse, Tisha Coffey, prepares to begin the 2023-24 school year Wednesday August 16 on the first day of school in Chester School District # 139. Jim Beers Photo
Next Wednesday August 23 will be a Chester High School Open House beginning at 6:00 p.m. Parents will have the opportunity to follow their student's full class schedule and visit each teacher which is responsible for each class. Included in that activity will be a CHS meal.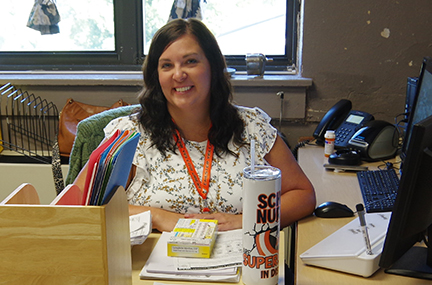 On the first day of school Wednesday August 16 school secretaries Alison Heuer (left) and Crystal Tindall (right) prepare to greet students in the CHS Office. Both have been busy throughout the summer getting ready for the return of students. Jim Beers Photo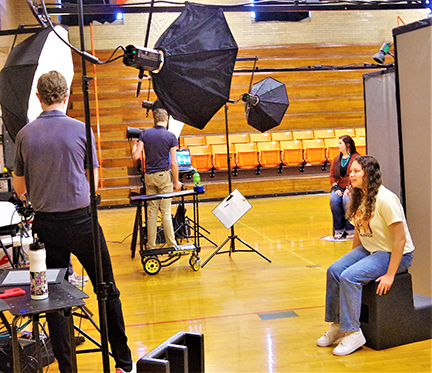 Steve Colonel, CHS Yearbook Sponsor, took advantage of the 2023-24 "Back-to-School" activities to have student and staff yearbook photos taken as part of the 1st Day sessions at CHS. All students and staff had their pictures taken throughout the day Jim Beers Photo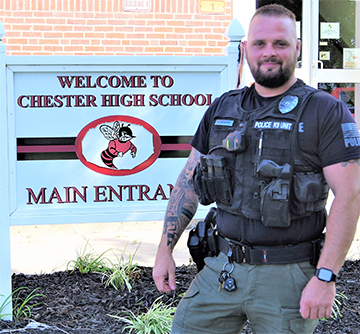 Steve Laramore, a Chester Police Officer, took time out of his busy day to visit schools in Chester as part of an initiative to offer a police presence to students and staff on a non-emergency basis. A County Sheriff's Deputy also made a visit earlier in the day Wednesday August 16 on the first day of school. Chester School District # 139 is in the process of attempting to acquire the services of a School Recourse Officer to be in the schools on a regular basis. Jim Beers Photo