CHESTER – The Chester Muni Band held its annual "Christmas in July" Concert Tuesday July 25th to celebrate the fact that Christmas is just five months away! 
This marks the 10th time in more than a decade that Steve Colonel, Band Director, has helped to foster the Christmas Spirit during July concerts. In the background approximately 100 guests lined the shady area close to the American Legion to enjoy the hour-long Summer of 2023 Municipal Band Concert Series.
The Christmas in July 2023 concert was especially well-liked in spite of the extreme heat and humidity as the band played an entire concert of Christmas music.
Some guests even wore Christmas clothing and decorated their cars with Christmas decorations.

Chester Municipal Band Director Steve Colonel, front and center, poses with a wide assortment of "new" Christmas decorations he has acquired since last Christmas of 2022. 
Colonel, as most citizens of Chester know, is an avid Christmas fanatic and annually has his rather large yard filled with literally hundreds of Christmas lights and decorations. Tuesday July 25th at the weekly Muni Band Concert Colonel and Company performed a complete concert of Christmas songs to celebrate "Christmas in July 2023".
That has become an annual tradition with the band and the month of July has become a time to let everyone know that Christmas is only 6-months away! Jim Beers Photos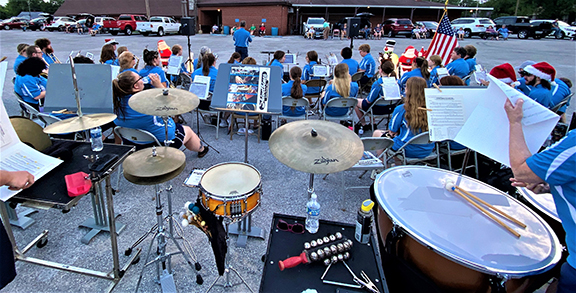 Tuesday August 1st will be the final Municipal Band Concert of the 2023 Concert Series and Colonel and Mayor Tom Page of the City of Chester encourage everyone to come to the American Legion for the 7:00 p.m. concert.