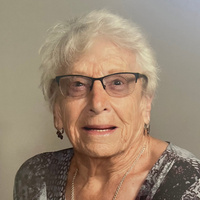 Delores A. Hillerman 92, of Chester, Illinois, passed away at 9:40 am, Thursday, July 27, 2023 at her residence.

She was born to the late Hugo and Pauline (nee Snider) Lorenz on February 2, 1931 in St. Louis, Missouri.

Delores married Wilbert H. Hillerman on April 23, 1949 in Chester, Illinois; he preceded her in death on November 2, 2014.

She was a homemaker and farmer's wife.

Delores was a member of St. John Lutheran Church in Chester. She was also a member of the V.F.W. Auxiliary, American Legion Auxiliary, Chester Hospital Auxiliary, the Lutheran Women's Missionary League, Lutheran Braille Work Center #165 and was a blood donor. 

Delores enjoyed entertaining in her home, pinocle club events with her friends, quilting with the LWML group of lady friends and fellow church members, water aerobics, gardening, mowing her lawn, traveling and reading her bible.

Survivors: 
Daughters:
        Georgia Merryman Bethesda, MD
        Brenda (Bill) Hughes Millersville, PA
Son:
        Ronald (Rebekah) Hillerman Chester, IL
Grandchildren:
        Jessica Newman, Derek Hughes and Amanda Hillerman
Step Grandchild:
        Jessica Griggs Bland
Great Grandchildren:
        Gwen Newman, Will Newman, Alice Newman and Alexandria Renee Chouinard
Step Great Grandsons:
        Landen Knott and Evan Bland
Many Nieces, Nephews, Cousins and Friends
Preceded in Death by: Parents, In-laws, Husband and Three Siblings – Sylvester Lorenz (WWII Casualty), Carmelita Schroeder and LaVerne Lorenz Kloth
 
Funeral Service:
   11:00 am, Monday, July 31, 2023
    St. John Lutheran Church, Chester, Illinois
Officiating: Rev. Timothy Sims
Interment:
   Evergreen Cemetery
   Chester, Illinois
Visitation:
   Monday – 10:00 am – 11:00 am
   St. John Lutheran Church, Chester, Illinois
 
Memorials:
   St. John Lutheran Church
 
A luncheon will be held at Delores' residence immediately following the graveside service.