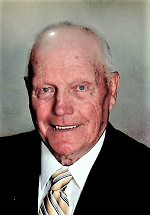 Howard Henry Westerman, 90, of Coulterville, IL, went to his heavenly home on Thursday, July 20, 2023.
He was born May 12, 1933 in Campbell Hill, Ill. He married the love of his life, Rosemary, on September 14, 1957 in Darmstadt, Ill. and they had three children.

Surviving to cherish his memory are his beloved wife of 65 years, Rosemary (nee Conway) Westerman; sister, Lydell Stevens; brother, Sherlain (Cindy) Westerman; sister-in-law, Carolyn Westerman; children, Rosellen (Daren) Sawh, Darrell (Kathy) Westerman, and Dale (Laura) Westerman; grandchildren, Amber Dietz, Ryan and Brandon Lloyd, Kile, Darric, Nicole, Kayla, and Krista Westerman, Amanda Burton, and Jerianne Berlin; great-grandchildren, Madison and Mason Dietz, Braden, Baylee Jo, Hunter James, and Charlee Mae Lloyd, Eleanor and Wade Westerman, Kendall and Audrey Kempfer, and Eveleigh Stevenson; plus numerous nieces, nephews, close friends, and extended family.
He was preceded in death by his parents, Martin and Pauline (nee Rubach) Westerman; sister, Joan Thornton; brother, Clayton Westerman; brother-in-law, Joe Stevens; and his darling dogs, Chipper and Boo Boo.
Howard was a member of Darmstadt Lutheran Church for 83 years, where he served as an elder, held the secretary position for over 50 years, and also taught Sunday school.
He was a member of the local carpenters union, the Southern Illinois Chapter 32 of IHC, and the St. Libory American Legion Post 683 for 55+ years. Howard earned his living as a carpenter and a farmer (livestock and agriculture).
When he wasn't busy working, he loved to collect red tractors, play cards, and spend time with his grandkids.

Howard was an incredibly honest, hardworking, and loving man who will be dearly missed and fondly remembered by all who knew him.

Visitation will be 8:30-10 a.m. Tuesday, July 25, 2023 at Lake View Funeral Home, Fairview Heights, Ill.
A funeral for 90-year-old Howard Henry Westerman of Coulterville will be held at 10 a.m., Tuesday, July 25, 2023 at Lake View Funeral Home, Fairview Heights, Ill.
Interment with military honors will follow at Lake View Memorial Gardens, Fairview Heights, Ill.
.
Donations in Howard's honor may be made out to Darmstadt Lutheran Church.