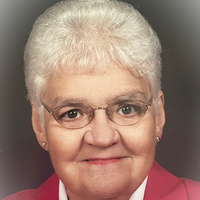 A graveside service will be held Thursday, July 6 for 86-year-old Erna M. Roider of Red Bud, Illinois, who passed away at 5:46 pm, Friday, June 16, 2023 at Three Springs Lodge Nursing Home, Chester, Illinois.

She was born March 22, 1937 in Red Bud, Ill. to  Anton and Marie Anna (nee Gaitsch) Roider who both preceded her in death.

She was never married.

She is survived by a brother: Eldon (JoAnn) Roider, Waterloo, Ill.; a sister-in-law: Ardell Roider of Waterloo, Ill.; many nieces, nephews, great nieces, great nephews, cousins and friends.
She was also preceded in death by: six siblings: Elsie (Edwin) Stadler, Edna (William) Mueller, Edwin (Henrietta) Roider, Elmer Roider, Earl (Ruby) Roider and Erwin (Ora) Roider.
Erna worked in the housekeeping department at St. Clement's Hospital and Red Bud Regional Hospital for 40 years. 

She was a member of St. Peter's United Church of Christ in Red Bud, Illinois. 

It was Erna's wishes to be cremated.

A graveside service for 86-year-old Erna M. Roider of Red Budwill be held at 10 a.m. Thursday, July 6, 2023 at St. Paul Evangelical Cemetery, 429 Beaird Street, Columbia, Illinois 62236. Rev Corey Hartz will officiate.