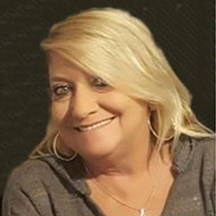 Sandra Kay Shumway, 61, of Chester, Illinois, passed away at 3:00 a.m., Sunday, May 29, 2023 at St. Francis Medical Center, Cape Girardeau, Missouri.


She was born to the late Rosco Shumway and Ella (nee Lueth) Waters on November 27, 1961 in Alton, Illinois.
Survivors: four children: Christina (Dustin) Houk of Chester, Ill., Michael Schlemer of Melbourne, Fla., Tina (Jimmy) Riecan of Schuline, Ill. and Danny Jones of Chester, Ill.; two siblings: James Shumway of Belleville, Ill. and Patricia (John) Stewart of Chester, Ill.; a sister-in-law: Pam Shumway of  Belleville, Ill.; 15 grandchildren: Alexzandrea, Hailey, Gaeb, Mason, Madison, Hayley, Colton, Trenton, Brianna, Nickolas, Daniel, Keagan, Kelton, Darren and Caiden; two great grandchildren:
Isabella and Kennedy; many nieces, nephews, cousins and friends.
She was preceded in death by her parents and a brother: William "Skip" Shumway.
Sandra had worked as a cook for over 30 years at many different restaurants.
She was of the Baptist Faith.
Sandra was also a member of the Chester Eagles Auxiliary.
She loved to cook and bake for her family and loved spending time with her grandchildren and great grandchildren.
Visitation will be 4-8 p.m. Thursday and noon to 1 p.m. Friday at the Pechacek Funeral Home in Chester, Illinois.
Funeral will be 1 p.m., Friday at the Pechacek Funeral Home in Chester, Illinois. Pastor Dan Ahlenius will officiate.
Interment will be in the Caledonia Cemetery in Sparta, Illinois.
Memorials may be made to family choice.