STE. GENEVIEVE — Missouri Gov. Mike Parson is scheduled to sign a record 50-billion-dollar state budget with 23-million-dollars of general revenue budgeted for the Division of Tourism at the end of June.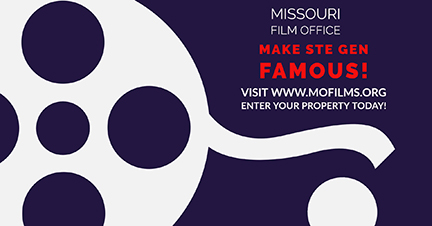 Along with funding, the Missouri legislation has authorized several tax credits for projects filmed in Missouri. 
Rural Missouri Impact
The film tax credit expired about ten years ago, however, recently the legislatue authorized a tax credit equal to 20 per cent of qualifying expenses for a film produced in Missouri. Projects filmed at least 50 per cent in Missouri would also be eligible for higher tax credits if filmed in rural Missouri, they hired Missouri residents, or marketed Missouri in a positive light.
Missouri Film Office: Contest To Promote Registration
To promote Missouri with the film industry, the Missouri Film Office has launched a directory to showcase interesting places among the state's Destination Marketing Organizations (DMOs).
Currently, only half the counties in the state have five or more locations registered in the database. 
"Ste Genevieve has unique properties such as historical homes, industrial sites, cemeteries, abandoned buildings, old barns, beautiful farmland, and other properties of potential interest to a production company." said Tanalyn Dollar, Marketing Tourism Director.  "For example, the film, The Patriot, is a great example of how our residents can provide authentic context from our buildings, period clothing, music, handcrafts, historical documentation, and militia re-enactment experience."
The Missouri Film Office is also sponsoring a contest to encourage property owners to register and upload images on their website: https://mo.reel-scout.com/loc_add.aspx.
Each entry in the database is eligible for a raffle to win prizes and the contest ends Jun 29, 2023.
"If any property owner needs help registering, they can call my office or send an email to tdollar@visitstegen.com. We need to jump on this to compete with other DMOs for this potential revenue." said Dollar.