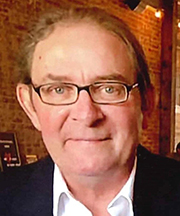 A private service will be held for 68-year-old Curt Clifton Donze of Crystal City who passed away May 23, 2023, at Mercy Hospital Jefferson in Crystal City.
He was born March 14, 1955, in Perryville, he was the son of the late Frances (Poindexter) and Norbert Donze.
He is survived by his wife: Laura (Joggerst) Donze of Crystal City; two sons: Coleman (Alcia) Donze of Union and Claton Donze of Crystal City; and three siblings: Joel "Jack" (Beverly) Donze of Ste. Genevieve, Mike (Cathy) Donze of Crystal, Minn., and Claudia Davis of Fenton.
He enjoyed the outdoors, and he loved animals.
He also loved spending time with his family.
Services are private.
Memorials may be made to St. Jude Children's Research Hospital.
Arrangements are under the direction of Vinyard Funeral Home in Festus.