Ste. Genevieve honors Spring Sports Athletes
STE. GENEVIEVE – Ste. Genevieve High School honored its spring sports athletes in baseball, softball, golf, and track and field during two sports banquets this week.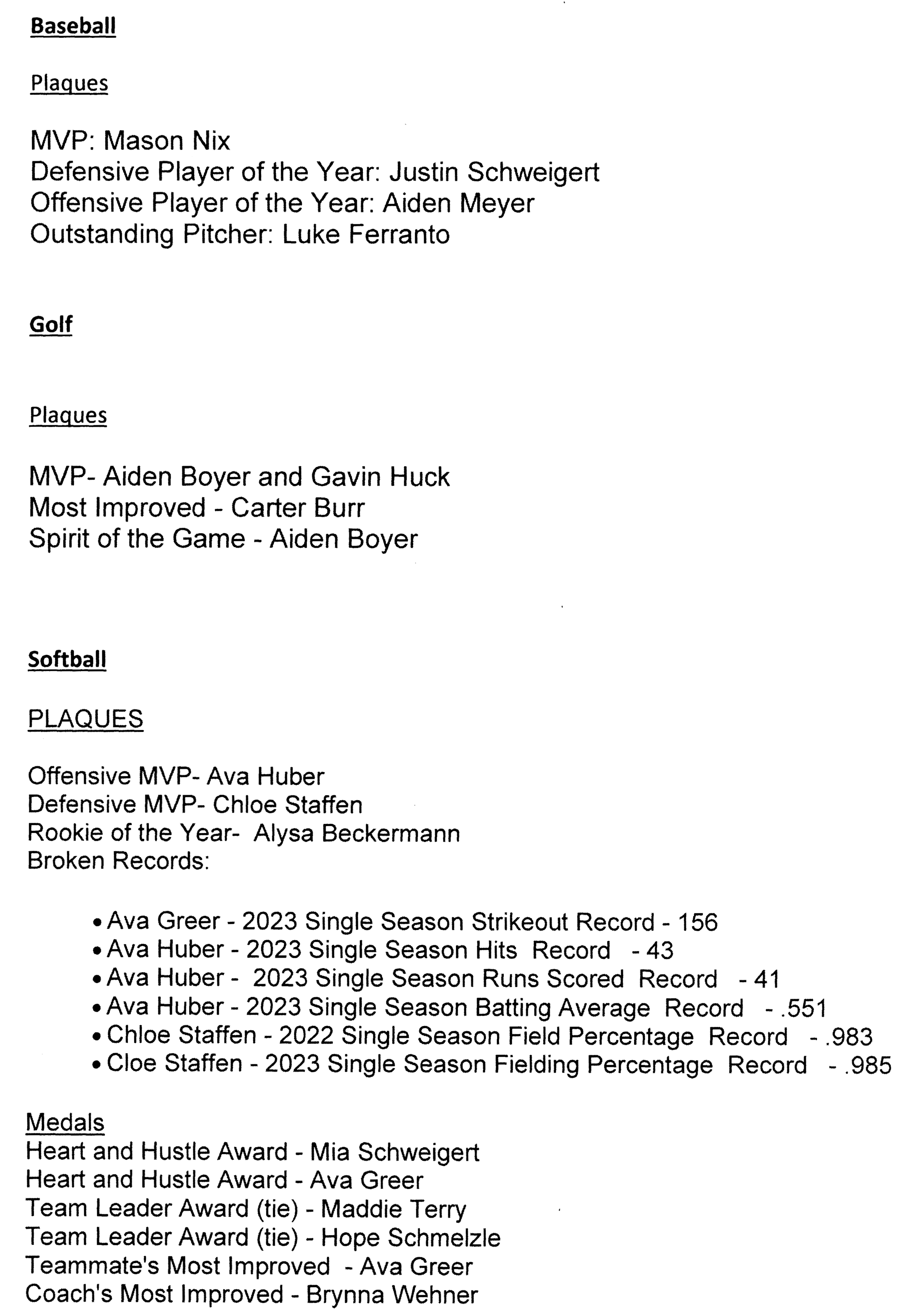 The spring season brought many post-season honors for the student athletes:
These are the student athletes who participated this spring.
Track and Field
CHESTER – Chester's Lannin Caron qualified in the pole vault and Gabe Steele in the high jump for the boys state track meet this week.
STE. GENEVIEVE – The Ste. Genevieve Dragons are sending the following track and field athletes to the state meet:
Girls:
Kale Clements – 400m and 800m
Savannah Jerman – 200m
Hollyn Zangaro – 3200m
Kiara Asher – high jump
Abigail Merklin – triple jump
Kayden Huck -100m and 300m hurdles
Alissa Grass – javelin
Jamison Kemper – shotput
4×200, 4×400 and 4×800 meter relays
Boys:
Paul Taylor – shotput and javelin
Ayden Butcher – pole vault
PERRYVILLE – Perryville High School is sending one athlete to the state track and field meet:
Ellie Gerler will compete in the shotput.
Soccer
JACKSON – Saxony Lutheran plays Metro Saturday in the Class 1 State Tournament at Saxony..
PERRYVILLE – St. Vincent play Ursuline Academy in the Class 3 State Tournament Saturday in Perryville.
Baseball
STE. GENEVIEVE – Four members of the Ste. Genevieve High School baseball team and three members of the Perryville High School baseball team have been named to the Class 4 District 2 All-District Baseball teams.
From Ste. Genevieve: Mason Nix and Aiden Meyer were named to the All-District First Team and Luke Ferranto and Wyatt Springkamper were named to the second team.
From Perryville: Troy O'Keefe and Dan Lauck were named to the all-district first team and  Adam Green was named to the second team.
Class 4 District 2 All-District Baseball Teams
1st Team All-District
Casen Murphy- Central
Dylan Black-Herculaneum
Blake Coleman- Potosi
Troy O'Keefe- Perryville
Mason Nix-Ste. Genevieve 
Kendal Horton- Central
Aiden Meyer- Ste. Gen
Jaxon Jones- Central
Dan Lauck- Perryville
Lane Revelle- Potosi
2nd Team All-District
Lucas Whitehead- Central
Luke Ferranto- Ste. Genevieve
Barrett Henson- Central
Ty Schweiss- Central
Jay Pashia- Potosi
Wyatt Springkamper- Ste. Genevieve
Adam Green- Perryville
Sammy Callaway- Central
Tanner Duncan- Herculaneum
Jack Dearing- Herculaneum