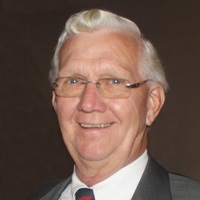 Ralph Henry, 80, of Red Bud, Illinois, passed away at 12:59 am, Thursday, May 4, 2023 at St. Clare Hospital, Fenton, Missouri. He was born to the late Roy and Mildred (nee Mudd) Henry on August 13, 1942 in Belleville, Illinois.
Ralph was a life long dairy farmer alongside his brothers and nephews at Henry Brothers Farms and later with his son Michael and grandsons Tyler and Travis. In his 'retirement" he spent his summers camping in Utah sharing his endless knowledge with young campers and fixing everything. A member of the Monroe County Farm Bureau and Dairy Farmers of America. He also served on the Red Bud School Board for many years.
Ralph had the great ability to make others smile and his sense of humor along with his laughter will be missed. You could always count on him for a good clean joke and a good wisecrack… "don't stick peas in your nose!" and we can all recall he was a bit of a daredevil when it came to driving!
Just like he dealt with all experiences in life, Ralph managed his Alzheimer's with strength and grace, and wanted to spend as much time with all his loved ones as possible.
He is survived by his loving wife of 57 years Janet (Imming) Henry; they raised their four children on the family farm on Ames Road: Michael (Pam) Henry of Red Bud, Vicki (Matt) Heinen of Waterloo, Lori Henry (the favorite) of Red Bud, and Amy (Bryan Kilpatrick) Henry of Bountiful, UT.
8 Grandchildren: Tyler (Megan) Henry, Tiffany Henry, Travis (Mariah) Henry, Maxwell, Mitchell, and Veronica Heinen, Connor and Jackson Kilpatrick; Great-Grandchildren: Whitley, Chase, one on the way, Willa & Briggs, 3 Siblings: Cletus (Ruth) Henry of St. Louis, Virginia Moeller of Red Bud, Roger (Marie) Henry of Ruma, 5 Sisters-in-law: Diane (Larry) Mudd of Rocher, Darlene (Raymond) Bievenue of Red Bud, Barb Koch of Red Bud, Charlene Imming of Rocher, Shirley Henry of Baldwin.
Numerous Nieces, Nephews, Cousins and many dear Friends and Neighbors.
Preceding him in death besides his parent were: His In-laws: Bernard and Clarissa, two Brothers: Curtis Henry and Vernon Henry, one Sister: Vera Henry, three Brothers-in-laws: Larry Moeller, Bernie Imming and David Koch and one Sister-in-law: Jeanette Henry
Ralph attended St John the Baptist Catholic Church, Red Bud Illinois and St. Patrick's Catholic Church, Ruma, Illinois. He served in the US Army in the 1960's.
Celebration of Life:
   11:00 am – 3:00 pm, Saturday, May 13, 2023 
   St. Patrick's Parish Hall, Ruma, Illinois
Memorials:
   St John's Catholic School
   Gibault High School
   St Patrick's Cemetery Fund
   Gilbert Cemetery Fund