MURPHYSBORO, Ill. – State Senator Terri Bryant (R-Murphysboro) is seeking to help local businesses receive recovery funding through a state grant program implemented to help those greatly impacted by the Covid-19 pandemic.
Sen. Bryant is partnering with the Illinois Department of Commerce and Economic Opportunity (DCEO) to host a Back to Business online webinar on Wednesday, May 3 at 10:30 a.m. to assist businesses with the application process, and to answer any questions related to eligibility. Representatives from DCEO will be on hand to provide information and to guide business owners.
"Our state's hospitality and tourism industries were one of the hardest hit business sectors during the pandemic," said Sen. Bryant. "Far too many businesses from that sector still haven't recovered. I hope that this webinar will ensure that as many qualified businesses as possible know about and receive the help that they need in order to secure funding from our state's Back to Business program."
The Back to Business program's new round of grants has $175 million available to provide to qualifying restaurants, hotels, and creative arts organizations. All applicants will receive a grant as long as they meet eligibility requirements and submit proper documentation and attestations required by the program.
To participate in Sen. Bryant's webinar, registration is required to RSVP@sgop.ilga.gov. Attendees must include their name as well as their business name, address, and phone number. Upon RSVP, participants will receive a link to the online webinar.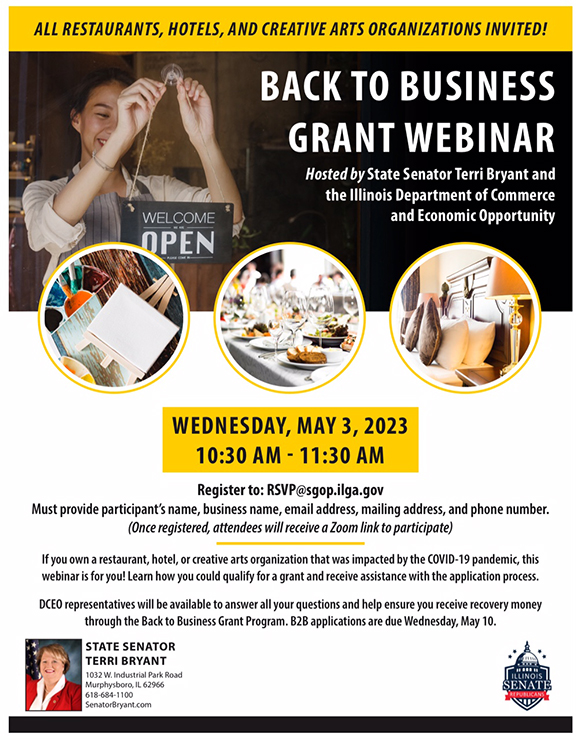 WHAT: Back to Business Grant Webinar
WHO: Eligible Business Owners
WHEN: Wednesday, May 3, 2023
10:30 a.m. to 11:30 a.m.
WHERE: Virtual. Zoom link will be provided upon registration
Applications for the Back to Business program are due Wednesday, May 10. More information on the program can be found here: https://dceo.illinois.gov/smallbizassistance/b2b.html