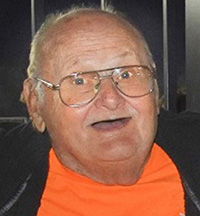 Richard Lee Kahmke, 82, of Perryville, Missouri passed away Monday, April 17, 2023 in Nixa, Missouri.

He was born October 26, 1940 in Perryville, MO to Everett Marvin and Freida (Esselman) Kahmke.

Richard and Anna Hennemann were married on July 16, 1975. She proceeded him in death on December 10, 2005.

He served in the United States Army during the Vietnam era.

Richard was a Computer Programmer for McDonnell-Douglas, Boeing and lastly IBM. He was the ower/operator of the Log Cabin in Perryville and founder of K and K Fireworks in Perryville. Richard enjoyed tinkering on lawn mowers, gardening, fishing and talking with his customers when selling fireworks.

Survivors include son, Christopher Lee (Rebecca) Kahmke of Nixa, MO; two daughters, Tammy (Tim) Dobbelare of Perryville, MO, Pamela (Rob) Walz of Cape Girardeau, MO; five grandchildren, Lauren, Kyle, Kelsey, Morgan, Braden; four great-grandchildren, Jaxson, Lydia, Cooper, Reed.

He was preceded in death by his parents; wife, two brothers, Jerry Kahmke, Dennis Kahmke; sister, Barbara Moore; son-in-law, Wayne Wibbenmeyer.

Visitation will be from 9:00 am to 11:00 am on Friday, April 21, 2023 at Ford & Young Funeral Home in Perryville.

Funeral Service will be at 11:00 am Friday, April 21, 2023 at Ford & Young Funeral Home in with Deacon Direk Hunt officiating.

Entombment will be in the Mary Queen of Heaven Mausoleum at Mount Hope Cemetery in Perryville.

Memorial contributions may be given to Concerns of Police Survivors.

Online condolences may be made at www.fordandyoungfuneralhome.com.

Ford & Young Funeral Home is in charge of arrangements.