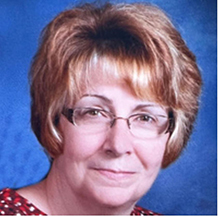 Michelle Lynn Robert, 58, of Red Bud, Illinois, passed away at 5:34 pm, Friday, March 31, 2023 at Bria of Columbia, Columbia, Illinois.
She was born to Arlen and Jean (nee Ellner) Kiefer on August 20, 1964 in Red Bud, Illinois.
Michelle married Armin "Butch" Robert on April 11, 1987, he survives.
She was a homemaker. She also helped her husband on the dairy farm and worked a local daycare for several years.
Michelle was a member of First Baptist Church in Prairie du Rocher and attended St. Peter's United Church of Christ in Red Bud with her family. She loved her family and was very active in her son, Christopher's, life.
Survivors:
Husband:
Armin "Butch" Robert of Red Bud, IL
Mother:
Jean Kiefer of Red Bud, IL
Son:
Christopher Robert of Red Bud, IL
Brother:
Darren (Melinda) Kiefer of Red Bud, IL
2 Nephews & Niece:
Adam, Evan and Emma Kiefer
Mother-in-law:
Marlene Robert of Red Bud, IL
Several Sisters-in-law, Brothers-in-law, Cousins and Friends
Preceded in Death by: Father, Grandparents – Ruby (Orloff) Offerding and Earl & Bernice Ellner and Father-in-law – Armin A. Robert
Visitation:
Tuesday – 4:00 pm – 8:00 pm
Wednesday – 10:00 am – 11:00 am
St. Peter's United Church of Christ, Red Bud, Illinois
Funeral Service:
11:00 am, Wednesday, April 5, 2023
St. Peter's United Church of Christ, Red Bud, Illinois
Officiating: Rev. Cory Hartz
Interment:
St. Marcus Cemetery
Red Bud, Illinois
Memorials:
American Cancer Society